Each mouthful was a delight. Thin strips of hor fun, tossed in a mixture of dark soy sauce, shallot oil and pickled vegetables. As I indulged in my large bowl of noodles, the corner of my eye spotted several people waiting for a seat or table to free up, just so they could experience what I was experiencing at that very moment.
The heady scent of boiling beef broth and the sound of the noodles being tossed added to the experience. You know you have come to the right place – Lai Foong.
A bowl doesn't come cheap these days; you're looking at RM7 for a small bowl and RM8 for a large. You have a choice of hor fun (flat rice noodles), yellow noodles or vermicelli, prepared kon loh (dry) or soup style.
Each bowl of noodles come with beef balls, beef slices, tendon and tripe, which you can customise to add on or remove the parts you don't like. Pretty good stuff, but I still prefer the beef noodles in Pudu. ;)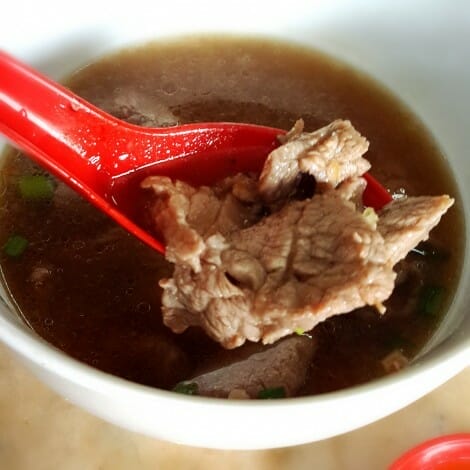 Like my Facebook page here.
Ambiance: 4.5/10
Price: 4.5/10
Food: 7/10 (non halal)
Verdict: One of the better beef noodles in Klang Valley.
Lai Foong Beef Noodle
138, Jalan Tun H.S.Lee,
50000 Kuala Lumpur