The last time my parents took me to Hong Kong, I was 2 and didn't remember a thing. According to mum, she had to carry me everywhere because back then, they didn't make foldable strollers and mine didn't fit in the cabin.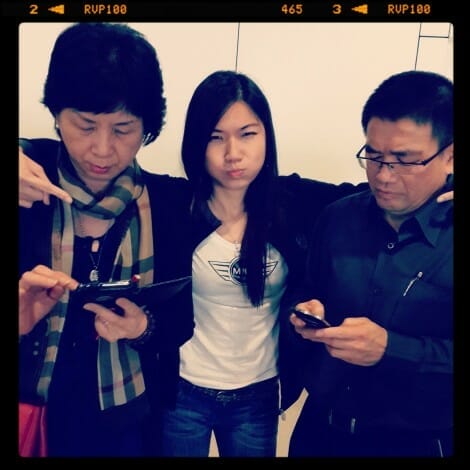 Don't know how she managed to carry a chubby toddler around the city because I sure as hell can't. Carrying my niece for 15 minutes feels like a mini workout itself. Finally got the two folks to come to Hong Kong with me for a holiday, and as soon as they landed at the airport, both took out their phones to play. :shock: Happens when your parents start becoming tech savvy and when the airport offers free wifi.
Didn't do much on the day we arrived – took them for dim sum, beef brisket noodles and almond milk pudding, plus a bit of jalan-jalan at Harbour City. I think mummy isn"t used to the tight spaces and having to squeeze into seats; took her a while to get used to Hong Kong and how space is a luxury here. Daddy on the other hand needed to get used to the long queue, especially at Tim Ho Wan.
Unlike my trip in March, the weather in Hong Kong isn"t as cooling as expected. It"s pretty much like KL, but less humid.
Popped by the casino at Venetian when we were in Macau, since my parents wanted to have a look. The casino was huge – way bigger than the one in Genting and even Marina Bay Sands. And it was super crowded. Not my kind of scene.
Also, there were many call girls lurking around for business opportunities. I left rif alone for just two minutes, and a girl approached him and offered her (ahem) services. The hulk in me awakened and I almost rearranged her face when I found out. #batshitcrazy
That aside, I had some pretty awesome Portuguese egg tarts and pork chop bun, much to mummy's disapproval. But it"s a holiday so she gave in. So far, it"s been a good trip. We"re trying to take it slow so it"s been pretty free and easy. Plus, I want my parents to have a vacation, not make them exhausted after the trip. :)
Like my Facebook page here.