I'm often suspicious of all-you-can-eat dim sum promotions. The more affordable the price, the more I'm cautious. See, a quality buffet often cost an arm or a leg, or sometimes both, and at RM65++ per person, Tai Zi Heen's dim sum buffet is well within my budget. We tried this dim sum buffet when we stayed at the hotel not too long ago.
To ensure freshness and quality, the dim sum is prepared upon order. We tried the Hong Kong Roasted Duck during our last visit and remembered it to be good. This time, we weren't disappointed as the skin was crisp and tasty, while the meat was well seasoned and tender.
We tried almost everything from the steamed dim sum selection, and my favourites were the siu mai, jade dumplings and purple spinach dumplings. I also liked the beef dumplings with watercress – not too strong smelling with a succulent texture. This warranted a second order. :)
The deep fried dim sum is pretty good. Noteworthy were the crispy yam puffs and Vietnamese Spring rolls. The salmon stuffed yam with mozzarella cheese was wicked! Rich, gooey and insanely addictive, I couldn't get enough of this.
I thought the prawn wanton had too thick a skin. While it was crispy on the outside, there was too much 'dough' before I got to the centre. The baked chicken puff was nothing to shout about; I found the puff pastry dry.
From the Wok section, we enjoyed the deep fried prawns with cheese sauce, black pepper udon and Szechuan style braised beancurd. The udon was tasty, with a nice peppery kick while the prawns were juicy and moreish.
I had a couple more rounds of dim sum before having dessert. rif's favourite was the mango pudding while I stuck to the red bean soup and glutinous rice balls with pandan lotus paste.
There's just something about deep fried glutinous rice balls that rock my socks. Especially if the filling is this generous. The chilled honeydew melon with sago was ok, but I would recommend the herbal jelly instead.
On a whole, I enjoyed the dim sum buffet. Quality was more or less the same as what you get if you order ala carte. They don't practice the pushcart concept, so if you go during peak hours, you might have to wait a while before you're attended to.
The dim sum buffet is available during weekends and public holidays from 11.30am to 2.30pm. Who's up for a round of dim sum? ;)
Like my Facebook page here.
Ambiance: 7/10
Price: 6/10
Food: 6.5/10 (halal)
Verdict: Good selection and pretty decent quality.
Tai Zi Heen Chinese Restaurant
Prince Hotel & Residence
Jalan Conlay,
50450 Kuala Lumpur,
Malaysia.
Tel: 03-2170 8888
***
Fashion plug: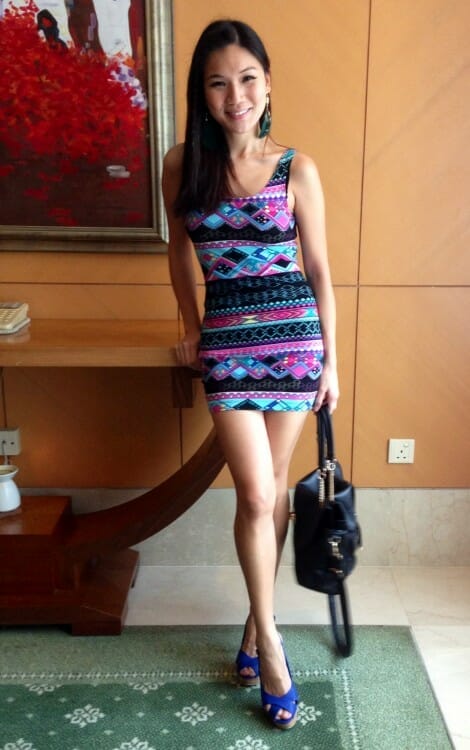 Mini dress from Peep Boutique, heels from Nose and earrings from Forever 21. My bag is a gift from mum in-law.