By fashion writer: Wei Ni Lee
For those with hair length past the chin, you know that becomes completely unbearable to leave your hair down in this heat.
Thankfully, the latest hair trend is all about braids or plaits, for a stylish and breezy way to do up your hair! Step away boring ponytails, we're bringing them braids back!
To get you inspired, here are some of the braid styles as seen on fashion week for Fall 2016.
Before getting started on creating your own artful braids, you'll need to know the different types available. Some are really luxurious and intricate, while others a little simpler and perfect for the busy bee. :)
I would love to be able to do a 5 strand braid, but as my hair texture is quite fine I don't think I'd be the best candidate for it. :( Those with thicker hair, give this a go! Alternatively, try applying some volumising hair products onto your tresses to create texture and thickness.
Both the inside-out and dutch braid is a pretty style to experiment with if you're tired of the traditional three-strand braid.
The fishtail braid is one that I have been trying to master, but can never get it to look the way it is supposed to look. Tutorials seem simple enough, but I can't quite figure out what I am doing wrong!
These braids are so pretty and they work well on "Day 3" hair. No one will know that you haven't been washing your hair. Until they stand a little closer to you. :P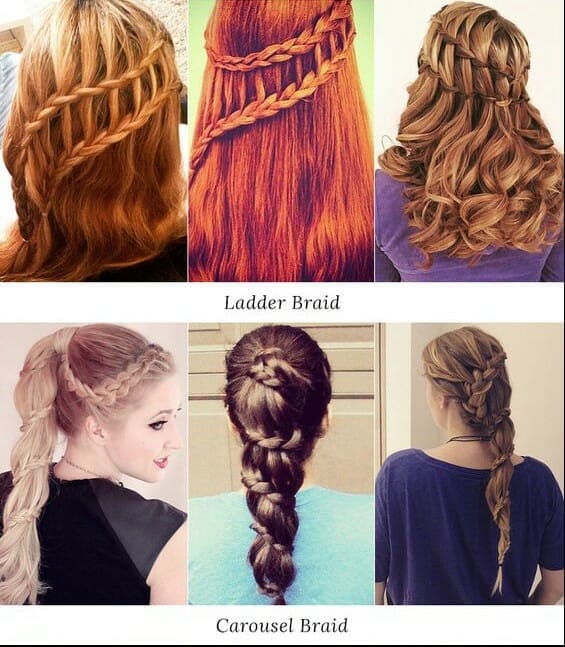 For those of you who are ready to up your braid game, the ladder and carousel braid is a statement piece. I just hope that when I attempt this, I don't end up braiding my fingers instead!
Braids may seem a little tricky at first to master, but as with all things a little practice goes a long way and soon you'll be looking back and wondering why didn't you attempt braiding sooner.
Here are a few helpful YouTube braid tutorials to help get you started on your braid adventure.
I find that with braiding, videos are a lot more helpful than pictures as you can pause, rewatch and redo until you get it just right.
The braid encyclopedia with 6 different braids you can create for yourself. You'll probably be here quite awhile trying to master these braids, so do set aside some time over the weekend.
This especially works for people with fine and shorter hair. The styles are quick and easy to create, perfect for those on the go.
Dutch braid & bun, which you can create really quickly to get all your hair out of the way and still look like you made an effort. :P
With braids being the big thing this year, which of these styles are your favourites?
Image credits: popsugar.com.