By fashion writer: Wei Ni Lee
I was invited to attend The Face Inc's event a couple of months back and after completing the super quick & easy skincare analysis with Dr. Rei, all within the comfort of my own home with an easy click of a button, I was provided a healthy collection of 5 The Face Inc's products to try.
Taking the opportunity to really put their products to the test, I brought them all over to Ireland with me for 14 days. I figured that since my skin would probably be unhappy with the long flights & sudden change of weather, this would be the best time to really see how good The Face Inc's products are! Also, it does help that their products are easy to pack. :)
Cleansing Gel: A proprietary cleansing formulation that hydrates & tones all skin types.
My thoughts: I really enjoyed using this cleansing gel. Through out my trip in Ireland while the weather was cold, using this cleansing gel really helped to remove all the dirt & grim without stripping my skin of moisture. It has a light fragrance and lathers nicely in the palms, leaving a smooth finish after rinsing.
Active Toner: An alcohol-free toner that contains AHAs for an enhanced cleansing process.
My thoughts: When it comes to toning the face I can get a little lazy, but for the sake of this review I diligently used this toner everyday. When it came to using this product, I really wasn't a fan of the pump, it required quite a bit of product to properly saturate the cotton pad before being able to wipe it over my face. That said, I do think that this product does remove the very last bits of dirt on your face & preps your skin to absorb your serums better.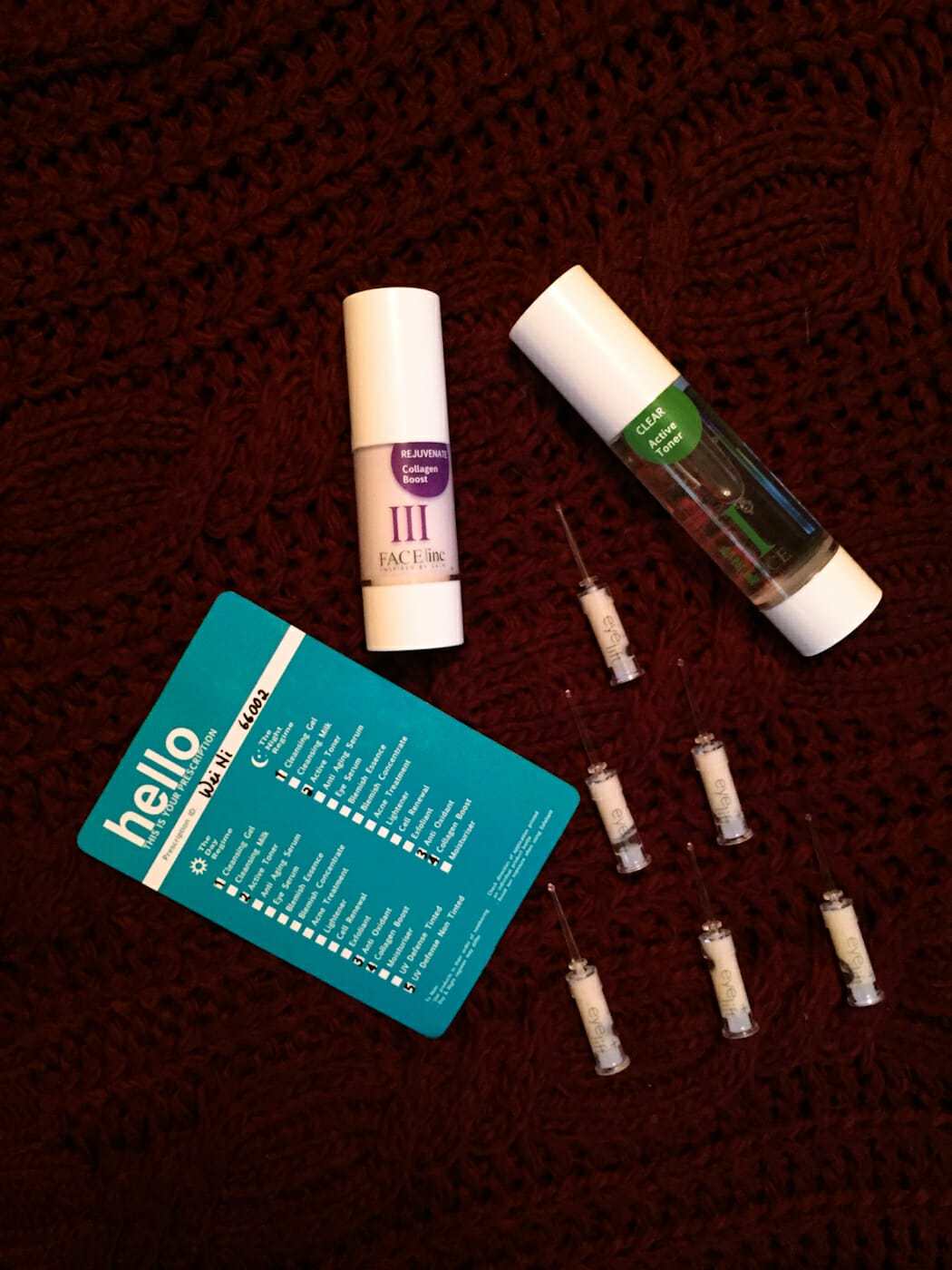 Anti Oxidant: An anti-oxidant with maximum Vitamin C content to encourage collagen & elastin production:
My thoughts: Upon application the product absorbs really quickly into the skin leaving a slight tightening effect with a tacky feeling, I don't know if this supposed to help with firming or it's just a reaction that happens when this product gets absorb. This product is pretty good for those who want to slap on a quick serum and quickly move on to the next step of your regime without waiting too long for it to dry.
Collagen Boost: An oil-free formulation that prevents the breakdown of collagen while stimulating cell renewal.
My thoughts: This really is my favourite product of the bunch. It went on smoothly and my face instantly felt rehydrated. I liked the smooth, milky texture that it leaves my skin feeling. I found that using this after the Anti Oxidant, it really helps to seal in the moisture and removes any tacky feeling.
UV Defense SPF 50 Non-Tinted: An advanced physical non-tinted sunscreen for protection of the skin against harmful UV rays, prevention of sunburn & photo-damage.
My thoughts: As I am usually rather impatient, I liked that this product quickly absorbs into the skin leaving me the freedom to start my make-up routine almost instantly. On days in Ireland when I didn't want to put on a lot of foundation, this product helped to protect my skin while still keep it from drying out in the Winter weather.
I am pretty satisfied with these products and they did a good job in keeping my skin moisturized through out my trip in Ireland. What I really would have liked to have to complete the collection would be a night cream as at night I usually put on a thicker layer of moisturizer to keep my skin from dehydrating as I sleep.
Aside from the 5-skincare products above, I was given the opportunity to try out The Face Inc's star product, their Eye Lift treatment, a peptide infused eye serum which works instantly to smooth & tighten the skin around & under the eye.
I've been using this Eye Lift treatment, not only in Ireland but when I came back to Malaysia as well. The first few days of being back home with the jetlagged I was surprised that my dark circles were not as prominent as they normally are. I felt that while there were still some dark circles under my eye from lack of sleep, it was a little less obvious thanks to the Eye Lift treatment.
I've used this for about a month now and I am slowly seeing the results. My eye area is smoother & less puffy and if I have a late night or two, my dark circles aren't as prominent (I can tell because I am using less under eye concealer). :P
This product goes on pretty smoothly with a slight tightening effect, it does have a slight tacky feeling to it, but that fades off pretty quickly. I would use this product after the toner & before the serums; just to ensure my eye area receives the best care.
My only gripe about this product is the ampoules. While the neck of the ampoules was easy enough to snap off, using the flat end to push the product out can be a little tricky as you might accidentally press out too much. Also, inserting the detached tip back to the ampoule squeezes out a fair amount of product as well so be prepared to use that up! Sad to say, I've had a few instances where the tip broke off & got stuck into the ampoule and I could no longer use that particular ampoule. :(
All in all, I am pretty happy with The Face Inc's products. They're easy to travel with, absorbs quickly into the skin & while I haven't seen any overwhelming changes just yet, I will still be diligent in using their products as I am seeing gradual improvements, especially around my eye area. :)
Get more information on The Face Inc on their Website & Facebook and don't forget to start your free skincare analysis with Dr. Rei.
Let me know in the comments below, which of these The Face Inc products are you most looking forward to trying?