As most of you know, we have two family cats Melanie and Miko; and in May last year, a Maltese called Teddy. It's been an interesting 9 months having both cats and dog under one roof. Thankfully, my two cats aren't too bothered about Teddy's existence and choose to do their own cat stuff.
Cats are generally very independent – all you need to do is bathe them once a week (they clean themselves every other day) and make sure their fur is properly groomed so they don't attract lice. Teddy however, is a different story.
For starters, he needs a bath at least twice a week and he's extremely picky when it comes to food. It's a problem we're constantly facing as he refuses to eat his food despite coaxing. Sometimes, he would vomit bile after going without food for too long. And sometimes, he eats Miko's (cat) food and she gets pissed and they fight. He wouldn't dare try that stunt with Melanie because she is twice his size.
We recently started him with some homecooked dog food from Pet Daddy, a movement towards healthy, 100% natural and fresh meals for dogs. Based on his breed, weight and age, they prepare 5 different types of meals to meet his daily calories requirements – Bella Notte, Minted Lamb Casserole, Caribbean, Asian Delight and Chicken Cluck Cluck.
The food is cooked from 100% natural and fresh human-grade ingredients and supplements. I've tried the Bella Notte and Lamb Casserole myself, and the casserole tastes pretty good. Wouldn't try the Bella Notte again though, because they add liver inside.
Unfortunately, this fussy Maltese of mine refuses to eat anything but Chicken Cluck Cluck and Lamb Casserole, so I've been feeding him just that. Even so, he will only eat them once a day – either lunch or dinner. Sometimes, I have to pretend to eat the food from my plate and transfer it to his plate, so he would eat it. :roll: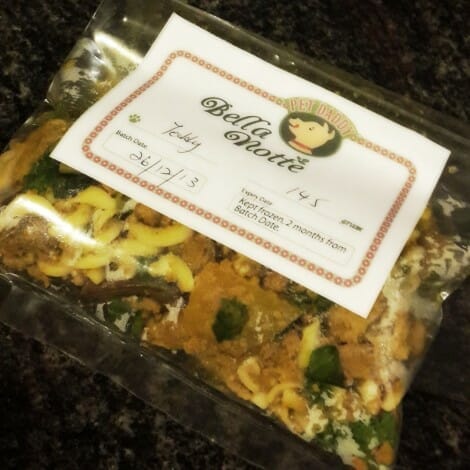 On days he gets too fussy, my sisters and I would add bits of snack into the food just so he would finish everything on the plate. But compared to when he started two months back, I'm happy to report that he's put on a bit of weight and doesn't steal the cat's food anymore.
We store the food in the freezer and thaw the food in the fridge a day before serving. As he is a small dog, he doesn't need much food. Three packets of food supply from Pet Daddy is enough to sustain him for a week or so.
Teddy still has a long way to go in terms of a healthy diet (he can be terribly spoilt), but I hope with constant exposure to wholesome food, we can change his eating habit. You can read more about Pet Daddy here. For inquiries, email [email protected] or visit the official website.
Like my Facebook page here.