Many have been asking why I was hospitalised and why I have a wound on my forehead. And I was getting tired of people speculating so here's the account of what happened. Also, for those who can't stop asking me about scarring, yes, it will scar. And for those who are weirdly and stupidly concerned about my (rumoured to be half gone) left eyebrow, no, I still have them. :roll: #somepeopletoofreegotnothingbettertodo
I met with an accident in Robinsons Mid Valley two weeks ago where I carelessly walked into a glass door (no, I wasn't using my phone so stop speculating) and suffered a deep gash to my forehead. There was no signage on the door at that time (you know, those matte horizontal laminate you place on glass doors) and I was in a hurry for an appointment. All I remembered was an immense pain to my head and a lot of blood gushing down.
I thought I could still walk but when blood started dripping onto the floor, I knew it was pretty bad. Was quite disappointed with how the staff at Robinsons handled the situation — they were so freaked out that they failed to react. They just stood around gasping and panicking until I told them to let me sit down and get me a first aid kit. They initially asked me to walk to customer service on the third floor to get the kit. Not smart, because then I'd leave a trail of blood on the floor and I'm in pain. How to walk to level 3?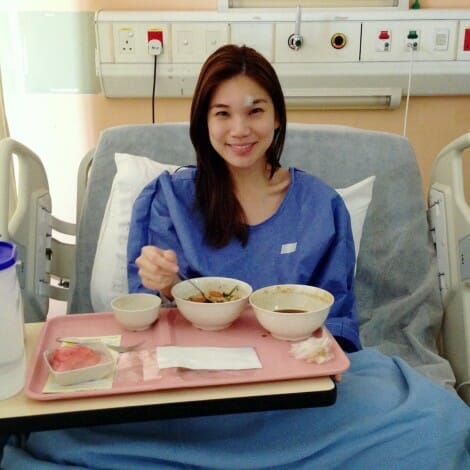 rif wasn't there when the accident happened. He actually dropped me off first since we were late and went to park the car. He took me to a nearby clinic to bandage the wound and then drove me to the hospital to get treatment. I received 7 stitches and was discharged the next day with a hefty bill. This is one of the rare occasions I'm grateful to my company for such great medical benefits hahaha. :P
The Microsoft team sent me a lovely flower + fruit basket which was really nice of them, despite me missing their event because of the accident. Much better compared to the treatment I received from the management team of Robinsons. I emailed them about the accident hoping that they would put up better door signage to prevent this from happening to another shopper. To my disappointment, I received a call from Mike Ho of Robinsons Malaysia and his entire conversation was defensive and unpleasant.
He did a really poor job on behalf of the management and didn't even bother to ask me how I was doing until the very last moments of the phone call. Here's roughly how he said it: "How's your wound? You're at home ah? Oh sorry to hear that, feel well lah." No sincerity at all. They were not proactive and instead, were negatively reactive when I spoke to them. Good thing my good friend Ee highlighted this to the top management of Robinsons and I received a call from Ashley who did a better job in empathising than Mike. At least now the signage has been put up at the side door.
Shitty part (besides the scar) is, I can't eat prawns, duck meat and anything 'heaty' for the next few weeks. And apparently chicken is out of the question because the male ones are bad for me wtf. How on earth would I know if the chicken is male or female when I go to KFC? "Kak, ayam goreng ni…jantan ke betina?" Bet the counter girl will ask me to buzz off if I ever did that hahaha!