Kuantan used to be a place I'd visit at least twice a year because back in his audit days, rif was stationed there for a month or two. When I went over for the weekend, we'd explore the area for good eats. Given our hectic schedules these days, I don't foresee us revisiting anytime soon. So I decided to do a Top 10 list to remember the good days.
Hoi Yin Curry Laksa
I've heard a great deal about the (halal) curry laksa at Hoi Yin and the shop gets packed by 10am. It's best to go early as they run out of curry mee fast. The noodles are available in 3 sizes; Jambo, Besar and Kecil.
The curry broth was spicy but also creamy and sweet – one of the tastier curry broths I've tried. Each bowl comes with steamed chicken, cockles, bean sprouts and tofu puffs. The accompanying chilli sauce packs quite a punch so go easy on the amount.
Hoi Yin Curry Laksa
No. 31, Jalan Teluk Cempedak
25050 Kuantan
Tel: 09-567 3871
Open on weekends and public holidays, closed on alternate Mondays
GPS Coordinates: N 3 48.745 E 103 22.230
Ana Ikan Bakar Petai
Ana Ikan Bakar is a popular ikan bakar stall in Kuantan and by 8pm, it's a full house. Basically, you head to the seafood counter to choose the type of fish or seafood you want before informing the staff of your preferred cooking style.
I usually go for the masak sambal petai and tiga rasa. The former features grilled fish with sambal sauce, onion slices and fresh petai. I like that the seafood is prepared in a banana leaf wrap, so it gives a smoky-char flavour to the food. Try this for yourself!
Ana Ikan Bakar Petai
Pantai Selera,
Tanjung Lumpur,
Kuantan
Tel: 019-987 8155 (Haji Baharin), 013-9989175 (Fairuz)
GPS Coordinates: N3 47.898, E103 20.388
Alor Akar Seafood
Another restaurant worth checking out is Alor Akar Seafood Restaurant, just off Jalan Beserah and it gets very crowded during weekends and public holidays. The herbal chicken is good stuff and I strongly suggest you call ahead to book your portion.
We also like the butter-fried mantis prawns, salted egg yolk squid and homemade tofu with minced pork and salted fish. The cooking style here is very homely and portions are hearty. Best part is, if you dine in a group of 6 and more, the food is very reasonable.
Alor Akar Seafood Restaurant (non-halal)
Lot 7695 & 7696,
Jalan Kubang Buaya,
Off Jalan Beserah,
Kuantan
(opens for dinner only)
09-568 0720
GPS Coordinates: N 3 49.760 E 103 20.575
Cendol Air Putih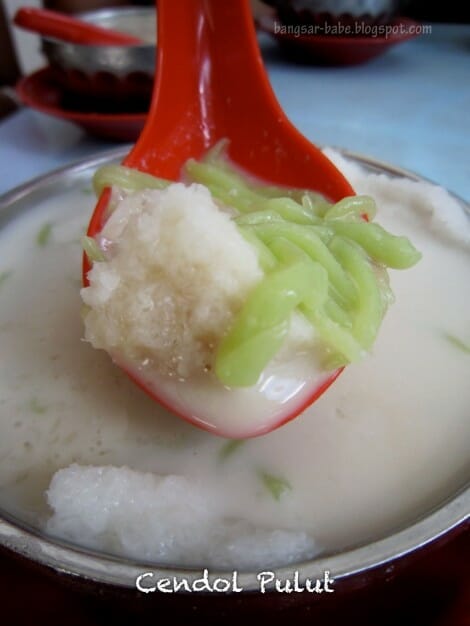 Cendol Air Putih, also known as the Kuantan Cendol is THE cendol place to go to in Kuantan. At least according to the locals. It's a small shop along the main road so keep an eye out for it.
Order the cendol pulut; and if you're feeling indulgent, go for the cendol campur pulut. I prefer the former as the mixture of ais kacang ingredients in the cendol campur pulut didn't do justice to this sweet treat.
Cendol Air Putih
(Opens: Tuesday to Sunday from 12-5.30pm)
B-260E,
Jalan Air Putih
25300, Kuantan,
Pahang
GPS Coordinates: N03 49.579, E103 20.178
Nasi Lemak at Restoran Zaman
Restoran Zaman is said to serve the best nasi lemak in Kuantan and these little treats sell like hot cakes. If I'm not mistaken, the price is close to RM2 per small packet and I find it quite expensive. But in all fairness, it was delicious. The rice was aromatic and rich from the coconut milk, and the sambal packed a wallop of flavour – spicy and sweet with a lingering aftertaste.
According to rif, they serve good mee jawa and mee soto too, so do keep a lookout for them.
Restoran Zaman
Batu 9 , Jln Gambang,
Kuantan, Pahang
GPS Coordinates: N03 45.738, E103 12.820
Yong Tau Fu and Curry Mee at Jess Café
Jess Cafe is well known for its Hakka yong tau fu, served with soup or curry noodles. My regular order here is the yong tau fu with curry kuay teow while rif likes to have the dry kuay teow. The yong tau fu here is generously stuffed with fish paste and the stuffing has a bit of chives and dried cuttlefish for added flavour. Good stuff!
I don't care much about the dry kuay teow, but the curry version is thick and richly flavoured. Boils down to personal preference.
Jess Cafe (non-halal)
No. A15,
Jalan Seri Kuantan 80,
Star City II, Kuantan
(closed on Mondays)
017-946 3133
GPS Coordinates: N 3 49.478 E 103 20.244
Assam Fish at Ah Wah
Ah Wah is a simple restaurant recommended for its Chinese and Thai food, done tai chow style. One of the must-order dishes here is the assam fish, served in a metal dish with charcoal underneath to keep the gravy warm.
The broth was spicy and sour, and also refillable. All you need to do is ask for more broth and the staff will come over and refill the dish for you. The pandan chicken is decent – fairly moist and tender with sweet chilli sauce for added flavour.
Ah Wah Restaurant
A-2000 Jalan Beserah,
Taman East Coast,
Tel: 016-953 3048 (Wendy), 011-1297 6196 (Ah Wah)
GPS Coordinates: N 3 49.510 E 103 20.155
Yong Tau Fu and Noodles at Sungai Lembing Morning Market
After a hike at Panaroma Hill, breakfast at the Sungai Lembing morning market is a must. The yong tau fu stall is the busiest of the lot – the locals love yong tau fu here.
You get to choose the yong tau fu you want and pair it with the noodles of your choice – dry, soup and curry noodles. The noodles are made using mountain water so texture is smoother. To get to the market, just follow the signboard that says Pasar Sungai Lembing. The stall is inside the food court of the market.
Yong Tau Fu and Noodles
Sungai Lembing Morning Market
Pahang
GPS Coordinates: N 3 55.018 E 103 02.117
Curry Mee at Kedai Kopi Ah Soon
rif and I stumbled across the curry mee stall at Kedai Kopi Ah Soon by accident. This stall serves something similar to what Jess Café is serving – yong tau fu with curry noodles. While the curry mee was just alright in my opinion, it was the yong tau fu that stole the show.
The nasi lemak stall is also popular here but we didn't get to try this as they were sold out.
Kedai Kopi Ah Soon (non-halal)
Lorong Kubang Buaya 21,
off Jalan Kubang Buaya,
Kuantan
Sambal fish at Yat Hing Bak Kut Teh
While Yat Hing claims to serve good bak kut teh, it was the sambal fish that rocked my boat. The bak kut teh was just decent – light broth but a strong herbal flavour. I reckon this is how the locals here eat their bak kut teh.
The sambal fish was good stuff. More than just spicy, the sambal paste was sweet, savoury, tangy and aromatic from the addition of lime leaves.
Yat Hing
A4852,
Lrg Seri Kuantan 25,
25250 Kuantan,
Pahang
Tel: 09-568 8644 / 012-218 5893 / 012-989 5614
GPS Coordinates: N 3 49.142 E 103 20.294
Kaya Toast at Meng Fang
Sometimes, happiness can be found in something as simple as kaya toast. rif and I tried the one at Meng Fan along Jalan Berserah, and it was really quite good. The bun is freshly toasted and served with a thick slice of butter and fragrant kaya (coconut jam).
I had this with a cup of old style coffee – bold and smooth till the last drop.
Meng Fang
B1445 Jalan Beserah
Kuantan, 25300
09 566 6126
GPS Coordinates: N 3 49.604 E 103 20.280
If you have other recommendations on places to eat in Kuantan, please share them with me so rif and I can check them out when we visit Kuantan again. :)
Like my Facebook page here.