I read on a few beauty blogs that claimed eyelash extensions are painless and gives you natural looking, thick eyelashes – a dream come true if you have short lashes like me. After hesitating for a few months, I decided to try it upon seeing this offer on Groupon. Instead on RM318, I paid RM88 for more than 2 hours of torturous Protein-Silk Fibre Eyelash Extensions at Your Beauty Image Centre in SS2.
While it could be my rotten luck for getting an inexperienced (I feel she is) beautician or maybe because I have sensitive skin around the eyes, I had a terrible time throughout the procedure. This was way more painful than getting a Brazilian wax. Instead of using a soft eye pad to protect the skin area under my eye, the girl used a tape similar to the ones used to create double eyelids on my skin. It was extremely uncomfortable and painful to remove.
She was also careless with the lash extension glue, leaving quite a bit of smudge marks on my skin. I expected her to glue the lashes one by one, but she didn't. Instead, she used a cluster of three eyelashes which I felt was clumpy. For a 'Protein-Silk Fibre Eyelash', the extensions sure felt like a synthetic one – hard, like those China imported false eyelashes you get from pasar malam.
When she used the lash extension glue remover to remove the glue stains she carelessly left on my skin and eyelashes, it was almost unbearable. The feeling was akin to applying a harsh nail polish remover around the eye area/massaging the area with sandpaper! I kept tearing because it was painful, and this went on for 2 hours. Her employer came into the room (and probably noticed how badly she messed up), and quickly offered me a soothing eye gel to calm the affected areas.
The skin under my eyes was sore for more than a day, and I had to use copious amount of eye cream to soothe the pain. While my eyelashes are thicker, it doesn't look as good as the Kiss Me false eyelashes. The latter elongates my eyes with a nice wing-tip effect at the end of the eye, whereas the extensions are limited to the original eyelash area. Which isn't much in my case.
Washing my face is now a pain as I have to avoid wetting the eyelashes for fear they might fall off. The only thing I like about having them on is the fact that I don't have to worry about my false eyelashes falling off. But considering so many cons, I would rather spend that extra 1 minute a day (and the occasional touch up) applying my Kiss Me false eyelashes.
Touch up for the extensions is RM30 and RM60 if too many fall off. If I'm not mistaken, they also charge RM30 to remove the extensions. A first and last experience for me.
*edit 9.10am: One cluster fell off, so there is now an unsightly bald patch on my left eye. Touch up is free within the first week (with appointment) and I don't know if I want to go through the painful ordeal this soon…
If you still insist on getting eyelash extensions, I suggest you go to a proper and better known beauty centre. I wouldn't recommend the one I went to: Your Image Beauty Centre. Geez…should have known better than to trust group buying sites for beauty deals!
Just in case you happen to be a sadist: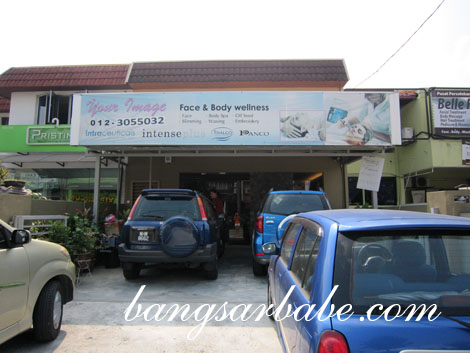 Your Image Beauty Centre
No. 33,
Jalan SS 2/66,
46730 Petaling Jaya,
Selangor