I recently overheard a couple talking about their ideal wedding card and how it was going to cost them RM8 per piece. Assuming they have 300 guests for their wedding: the cards alone are going to cost them RM2,400! Fine, maybe not one card per guest; one card per two pax – that's still RM1,200.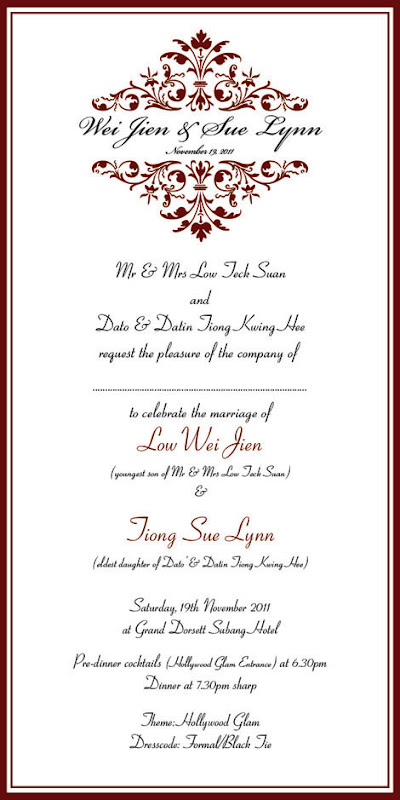 For our wedding last year, I remember the initial quote from our wedding planner for an elaborate card. While the card was nice, I couldn't comprehend paying RM6 (bulk printing price) for a card that people would probably sell to the newspaperman after the wedding is over.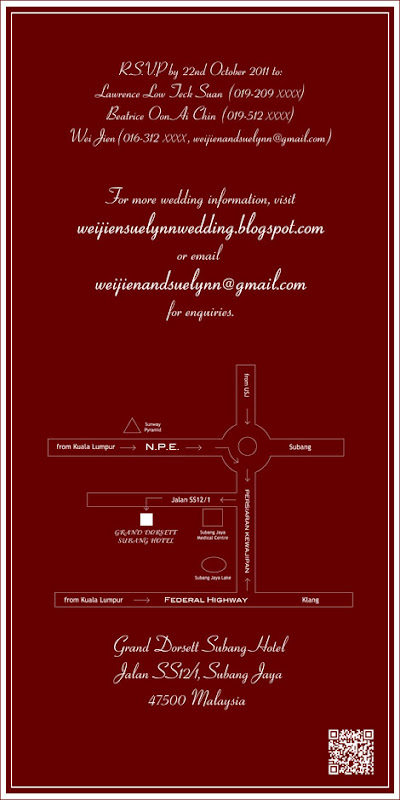 And since my groom was so particular about details and concept, he wasn't going to settle for a random invitation card from Chinese wedding supply shops. So I designed our card, together with our wedding monogram, which we used for our stage backdrop, food menu and guest list.
rif wanted something simple, yet classy. It was the year William and Kate tied the knot and he was inspired by the royal wedding invitation. Hence, our version of wedding card. It wasn't easy doing the monogram, but once I finished that, the rest of the design was relatively straightforward.
Our theme was red and purple, but I didn't want the two colours to mix in the card because it looked gaudy. We printed the invitation on pearl ivory paper and our wedding planner got us an affordable printer (thank you Adamas!). Guess how much we paid per card, excluding envelope? RM0.80!! Terror leh… :D
I was quite pleased with the cost and outcome of the wedding card (since I designed it lol) and while our parents wanted a two-fold card, we stuck to our ground and had a single piece. Looks more elegant and cost less too.
If you're looking for a less expensive wedding card, why not design it yourself or ask a designer friend to do it for you? And get a reliable and affordable printing company. I don't have the printer contact with me anymore. However, you can use this as a benchmark when printing your own card. I'm off to play Binguez.es!