I still get emails from people regarding my wedding i.e.: how much was the wedding dinner, how much did I pay for flower décor, where did I get my dresses, my bridesmaids dresses, my shoes, my makeup artist, my hairstylist, my alcohol, my cake…etc.
A few asked about the subject of ang pau, which I blogged about and shared on Facebook. But after receiving not-so-nice comments from others for trying to help these brides (who went around sharing my FB link and didn't even bother to clarify things to help me), I've decided not to help out that way anymore. Anyway, here's what happened on my actual wedding day: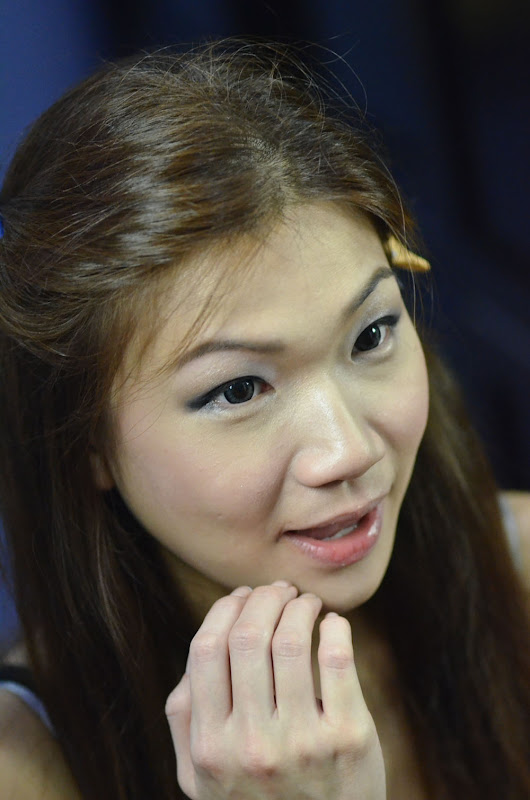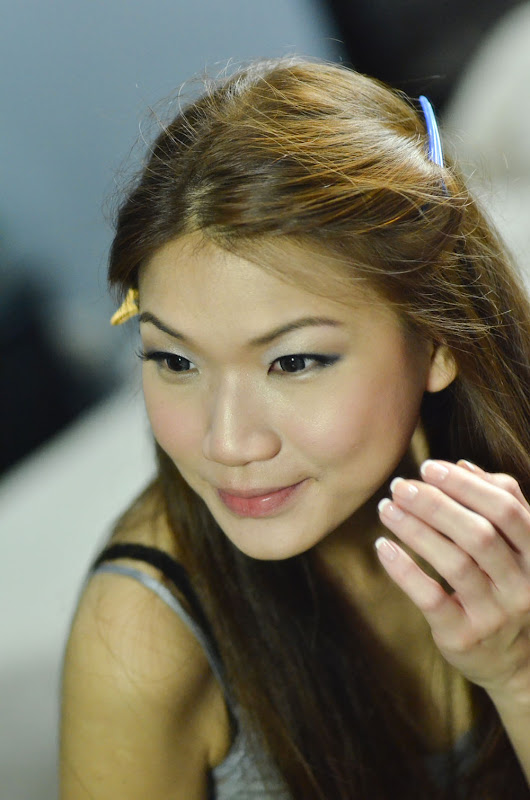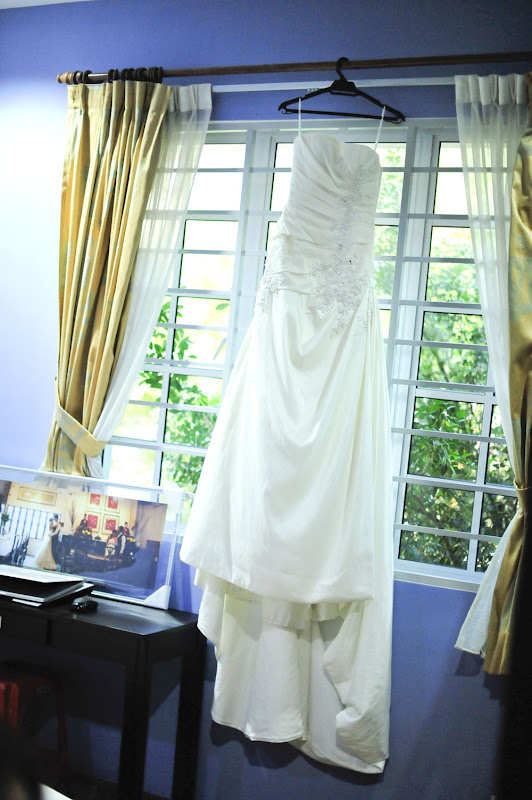 Got up at 5am to shower. Jamie arrived at 6.30am to do my hair and makeup. Christy and Jeen came over by 7am to get ready for the jip san leong games. The photographer and videographer came pretty early to set up as well. I wanted to wear my hair down, but Jamie wanted to do a Jessica Alba inspired hairdo as it would look nicer with the veil on. Everyone liked the end result, including me. I had on minimal makeup because it was the morning ceremony.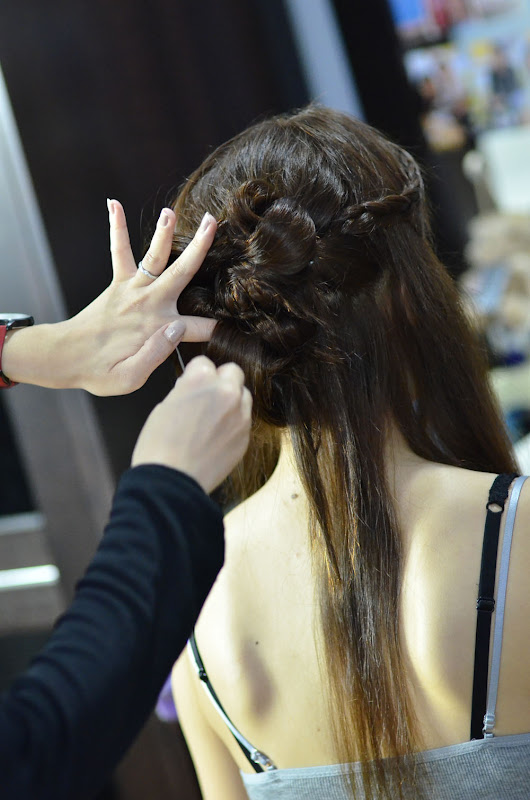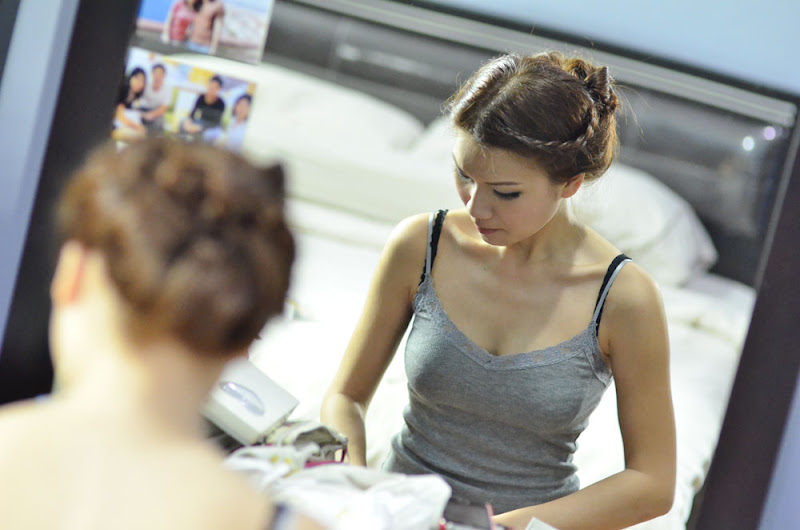 Wei Jien took longer to arrive – I suspect it was his tactic to stall time because we had to leave my house by 10.30am. Chis! According to the fortune teller, if we leave my family home after 11am, it won't be good for the marriage and the family.
I should have instructed for some pain to be induced upon the guys, as they were teasing us girls about how 'painless' the whole process was. WTF. My girls wanted to wax them and torture them with vinegar shots, but I (stupidly) felt bad so I told them to be nicer. If I knew they were going to be so cocky, I would have told the girls to torture them more!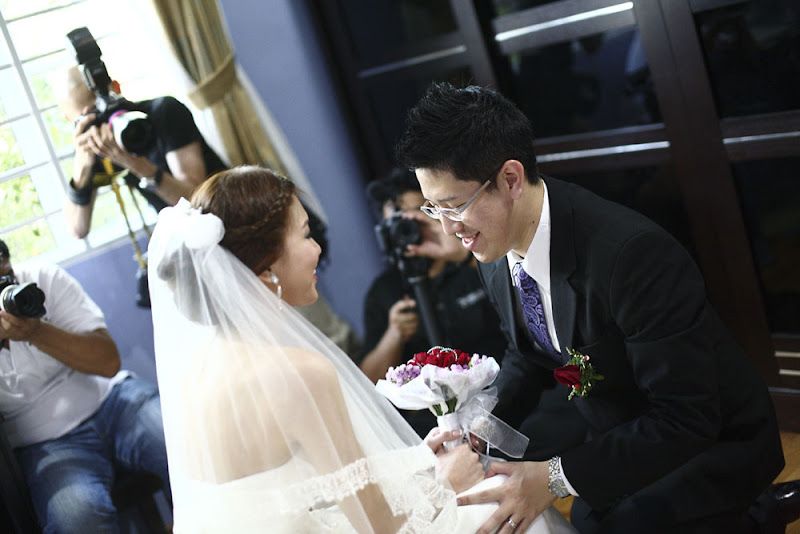 Anyway.
After the tea ceremony at my place, we went over to his house and changed into my red kebaya. Hanim had to help me pin the kebaya top since she was better at this. And I forgot to bring my sarong buckle FML. While figuring out how to tie the damn sarong his mother came in to see why I took so long.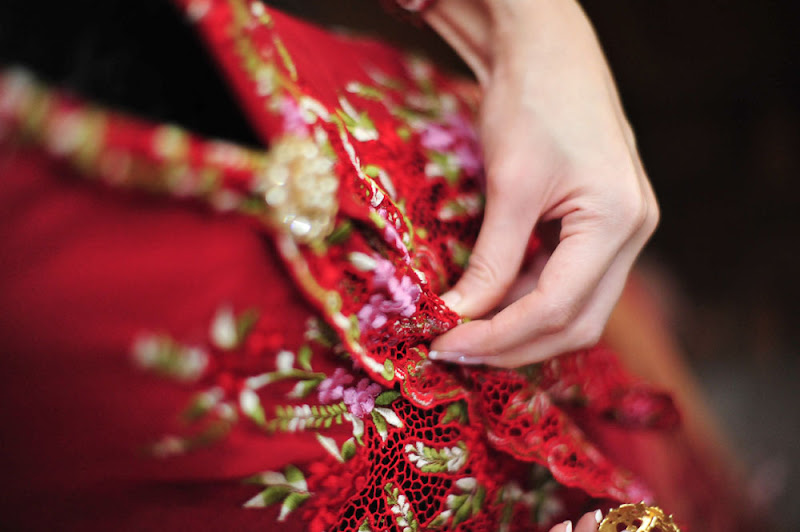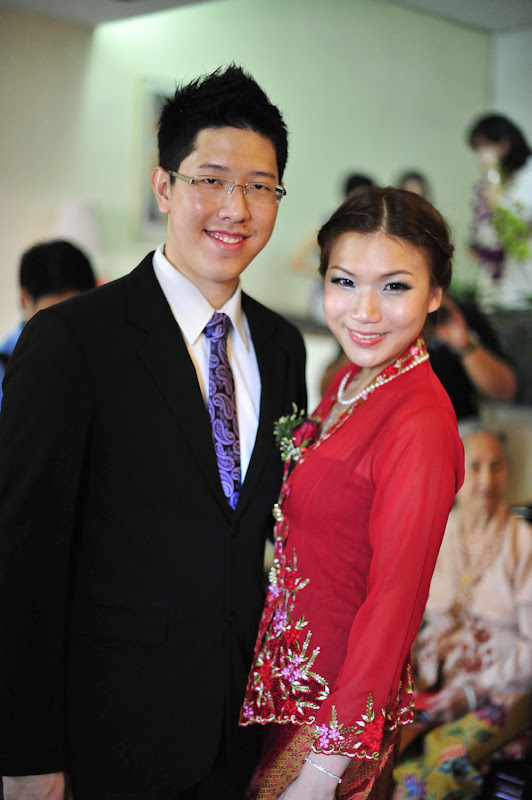 She had no spare buckle so I pinned my sarong with Wei Jien's nephew's nappy pin. Who cares…no one could see. Lol! By the way, I bought the kebaya and sarong from a shop in Jalan Tunku Abdul Rahman. I didn't think it was necessary to spend a fortune on making one just for my wedding. The whole outfit cost me RM180. :)
For more pictures of the Morning Ceremony, click on the Picasa folder below:
Once the tea ceremony was done, we packed our things and went to the hotel to rest and get ready for the dinner. I didn't prepare my vows yet so I sat in my walk-in wardrobe to finish it while Wei Jien went downstairs to see how the ballroom set-up was coming along. By 4.30pm, my emcee arrived and I went down for the dry run. Went up to the bridal suite at 5pm to do my hair and makeup and fell asleep while at it.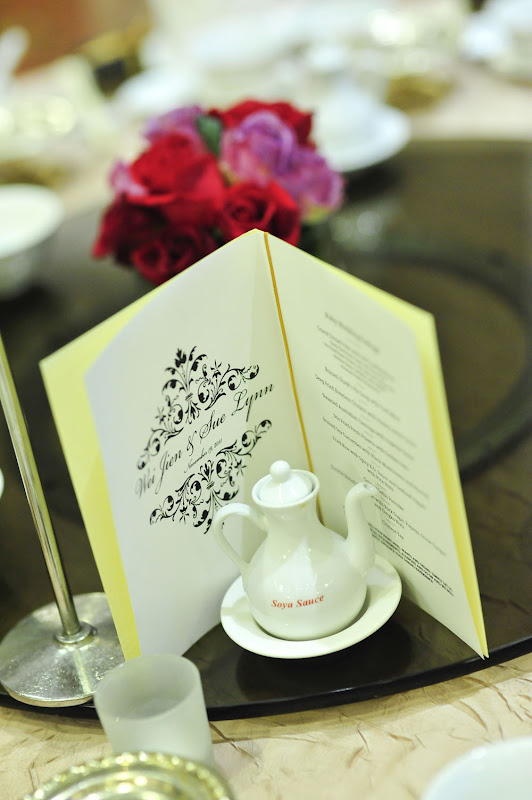 The guys had pizza for dinner but I chose to skip it because my dresses were small. I ate carrot sticks and 3 pieces of chocolate for energy. Silly me asked the seamstress to "make it as tight as possible" so it was impossible to eat in those dresses. At least they looked nice and that's most important to me. I think the tightest gown was the short cocktail dress – it was the hardest to breathe in.
I had four gown changes and three walk-ins with smoke machine and all the works. I didn't get to eat but was told by my guests and family members that the food was quite good by hotel standards. For those guests who found the food disappointing, you had your chance to tell me/my wedding planning team that night, but you didn't. So forever hold your peace.
I'm glad I got a new (and more efficient) liaison manager from Grand Dorsett – Yew Kok Pin. He was very detailed about things and did his best in accommodating my wishes. I had a specific idea of how I wanted the floral arrangement to be and showed him some examples. He not only got the florist to do a similar version; he even upgraded the centerpiece for my VIP table! I only found out when I entered the ballroom and thought it was beautiful. Thank you, Kok Pin! If you're having your wedding/event in Grand Dorsett Subang, you're in good hands*.
*The same cannot be said with the other liaison managers because the ones I dealt with before Kok Pin took over were very slow and inefficient. I almost wanted to strangle one of them. 
Jamie the makeup artist was such a darling. She stayed back until 11pm that night and custom-designed my hair pieces according to my gowns. And I only sent her pictures of my gowns 3-4 days before the wedding. I think she did a good job with my make-up – she made my eyes bigger and even matched the theme while at it. I'm so glad I stalked found her.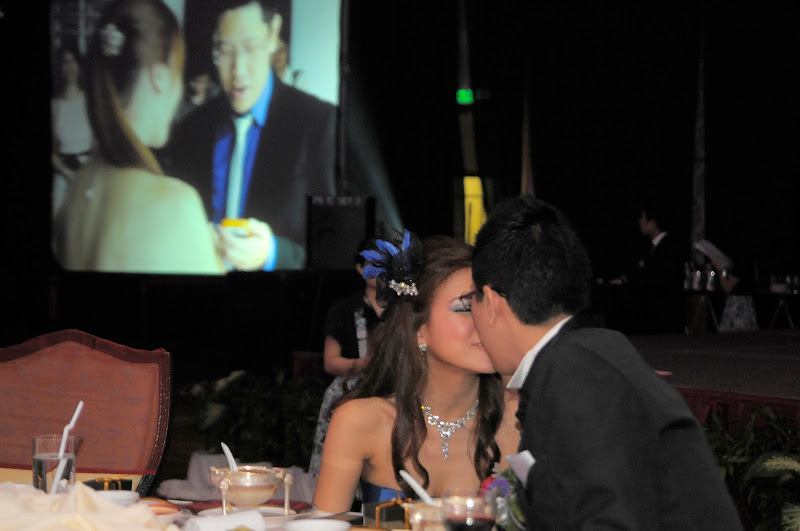 Chai Wei from Mori Pin gave me a beautiful set of jewellery as a wedding gift together with the neckpiece I wore during my ROM. I wore it with my main wedding gown and blue mermaid gown, and it sparkled like real diamonds. They were imported from Korea and the workmanship was good. If you're looking for good jewelry, go check out Mori Pin in Bangsar Shopping Centre and Bangsar Village II.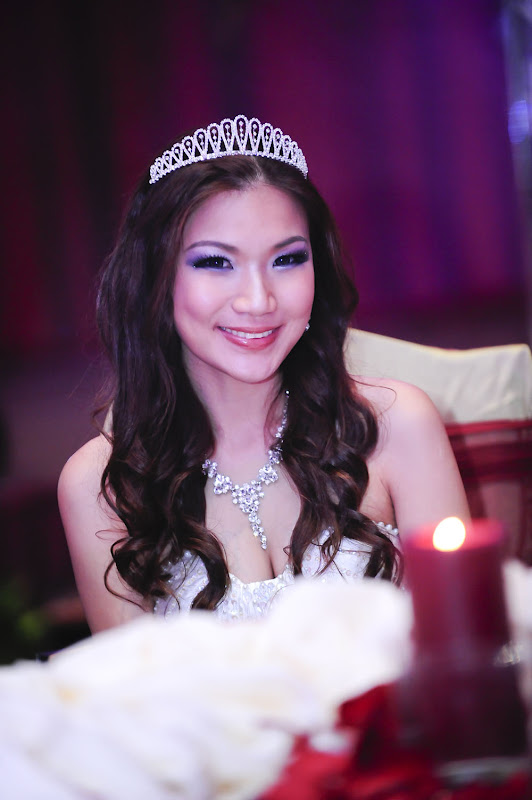 My tiara was a gift from Christy, who bought it for me when she was in Bangkok. It's beautiful and I love it. Thanks girl! It was Jeen's birthday that day and she was at my place at 7am doing her maid of honour duties with Christy. And they were both there to help me squeeze into my wedding gowns that night. And my gowns were laced up, not zipper style. Poor them!
Nigel Sia did a good job with our videos – Love Story, ROM & Actual Day. You can view them below or on my blog sidebar. Every important detail was captured and he was very creative with the whole process. Even the songs he chose were perfect. Michael Yip came to help with the photography, because rif happens to be quite vain. Thanks Mike, for making time for our big day!
Wei Jien + Sue Lynn // This Way Darling (2011) from Nigel Sia on Vimeo.
Wei Jien + Sue Lynn // ROM Highlights (2011) from Nigel Sia on Vimeo.
Wei Jien + Sue Lynn // Wedding Highlights (2011) from Nigel Sia on Vimeo.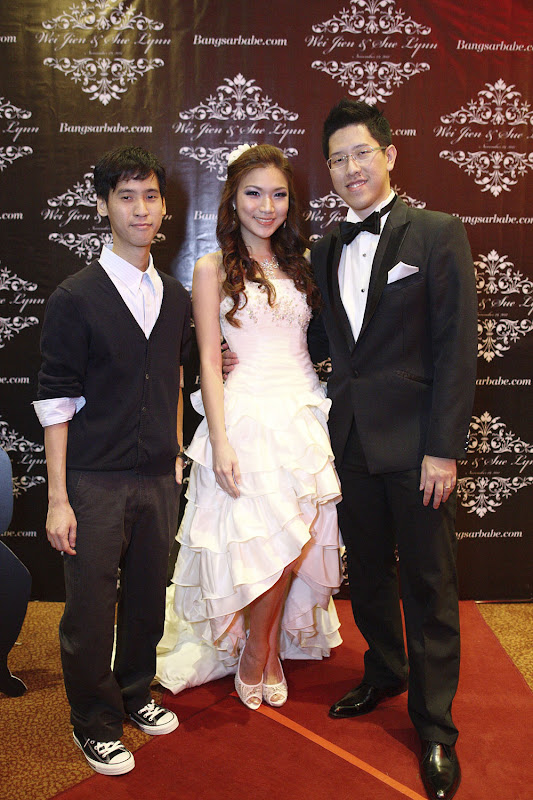 My gowns were courtesy Venetian Bridal House and they were altered and custom-tweaked to what I wanted. The main white gown had a deep heart-shape neckline with an elaborate train. It was initially a plain gown but I wanted the bodice to be beaded with pearls and sequins for extra bling and it took them one month to do it for me. Tqtqtq!
The final gown was a see-through nude gown and yes, that's my skin you're seeing. I was initially hesitant to put it on, but my wedding planner and mother insisted it was THE finale gown. Venetian was such a life saver after my horrible experience at La Sposa, who messed up my gowns and rif's suits. By the way, my mum's evening gown was also from Venetian.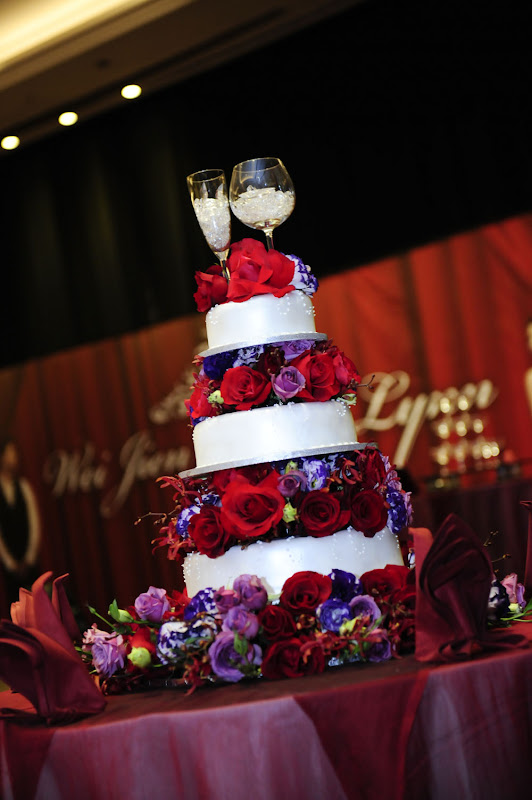 Our wedding cake was gorgeous and tasted good too. It was a dark chocolate cake with royal icing and fresh flowers on top, and the cake was incredibly moist and chocolate-y. Everyone loved it. Thank you Charles, Nigel & Allan, for this wedding gift!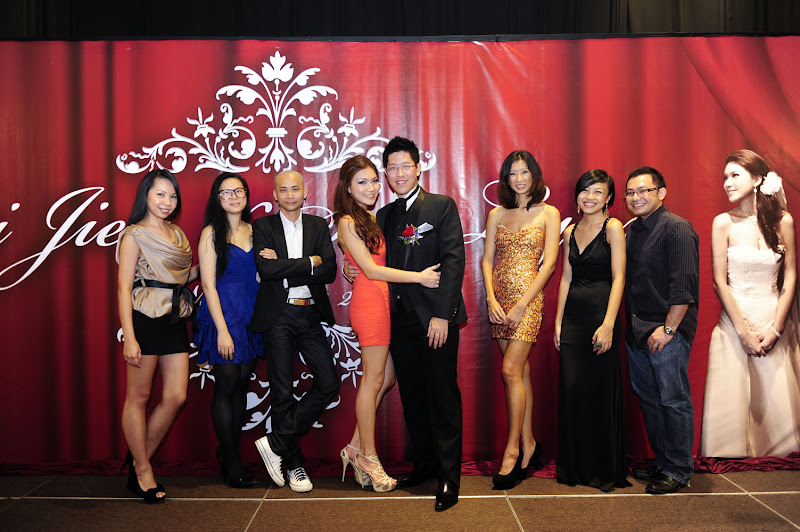 All in, our wedding was fabulous. Sure there were minor glitches here and there, but on a whole, things went smoothly. Dinner started and ended on time and the guests were happy. And I had my friends close-by and everyone pitched in to make the wedding a success. Thank you everyone!
For more Wedding Dinner pictures, click on the Picasa link below:
Like my Facebook page here.
*And to address the rumours that our wedding was more than RM600,000, thank you for the compliment but our big day was no where as elaborate as the PM's daughter's engagement. ;)
Wedding Vendors:
Like my Facebook page here.