Malaysia boasts some of the most beautiful islands and beaches in the world, including Pangkor Laut, a 300-acres privately owned island that is home to the luxurious Pangkor Laut Resort and its eight estates. There are no other resorts on the island to ensure exclusivity to guests, allowing them to enjoy secluded bays, pristine beaches and panoramic views.
rif and I spent three days at the resort – where we stayed in a lovely spa villa, with a stunning view of the Malacca Straits. The villa is set on stilts over the sea, with direct access to the Spa Village, and features a large bath with ceiling mounted shower and a balcony for private sun bathing. What I like about the spa villa is its quieter location at the end of the beach – buggy service is provided for easy navigation around the resort.
The view was beautiful. We were blessed with sunny weather on the first and second day, with clear blue sky and emerald green water. It felt a lot like our honeymoon in Maldives. Come to think of it, many couples were on their honeymoon when rif and I were there. They were easy to spot as their wedding bands still glimmered.
During our stay at the resort, we enjoyed the sunset cruise around the island with canapés and free-flow soft drinks, wine and beer to add to the overall experience. The cruise is a signature activity of Pangkor Laut Resort, at an additional RM200 per person and takes approximately 1 hour to circle the Pangkor Laut island.
The resort's centrepiece is Emerald Bay, said to be one of the most beautiful beaches in the world. We took a walk to the beach through the rainforest, accompanied by the resort's naturalist. Along the way, he stopped to show us some flora and fauna, and even did some weaving demonstration for the guests to see.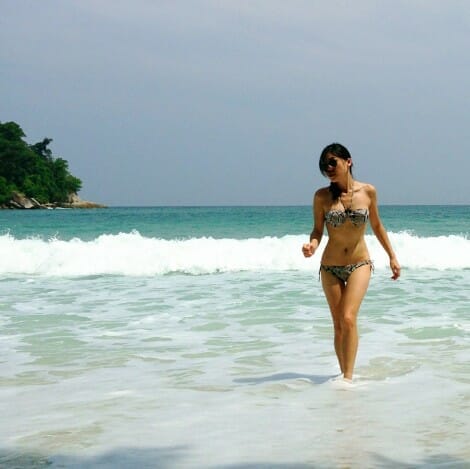 That gave us plenty of fresh air and the distance worked up an appetite for our lunch later that afternoon. Of course, you can always opt to call for buggy service and they'll be more than happy to take you to the beach.
One of the highlights of my stay at the resort is the spa, a 3-hour pampering session that left me feeling refreshed and relaxed – amazing spa facilities and skilled therapists. Until today, I still talk to many about the bath ritual I experienced during my spa session. Great conversation piece I must say! ;)
Pangkor Laut Resort boasts seven dining outlets – Feast Village, Royal Bay Beach Club, Chapman's Bar, Jamu Bar, Uncle Lim's, Fisherman's Cove and The Straits. I've dined at all, except The Straits because it wasn't open when I was at the resort. Each outlet is unique in its own way – using the finest local ingredients to provide guests with a range of culinary experiences.
At Fisherman's Cove, we tucked into a sumptuous meal of grilled seafood and meats with Asian-Italian influences. Service was attentive and the food was consistent – we were impressed. Another favourite of mine is Uncle Lim's Kitchen, named after the resort's longest serving employee, and specialises in Hock Chew and Nyonya cuisine. This was by far the best Hock Chew meal I've eaten outside of home.
Royal Bay Beach Club overlooks the infinity pool and serves a variety of Asian and Western dishes for lunch. Come evening, the restaurant transforms into a lounge, serving cocktails and other beverages.
I liked Chapman's Bar on Emerald Bay – named after a famous British Colonel who sought refuge at the bay in 1945. The bar serves light lunches and also a small buffet spread with a live grill and noodle station. Breakfast is served at Feast Village daily and on our last day at the resort, we tucked into a leisurely Japanese lunch of hand pressed sushi and salads at Jamu Bar, overlooking the Straits of Malacca.
For residents of Malaysia, Singapore and Brunei, the resort offers a resident package that starts from RM775++ per room per night, for those travelling from 1st September to 31st October 2014. This includes daily breakfast, lunch and dinner, and a complimentary dinner upgrade to Uncle Lim's Special Birthday Feast. For more information about this package, click here.
To get to the resort, head to the Marina Island Pangkor Jetty and wait for the resort's privately owned speedboats. Check the boat schedules here. A one-way boat transfer costs RM80 per adult and RM40 per child below the age of 12. Pangkor Laut Resort also offers land transfers from KLIA to Marina Island Pangkor Jetty, for RM900.
For more information about Pangkor Laut Resort, visit the official website at www.pangkorlautresort.com. Thank you YTL Hotels, for the kind invite. :)
Like my Facebook page here.
Pangkor Laut Resort
Pangkor Laut Island,
32200 Lumut
Perak, Malaysia
Tel: +605-699 1100
YTL Hotels Facebook Page