The Banjaran is a 5-star retreat sanctuary comprising 25 villas and is a mere 15 minutes drive from Ipoh town. Situated on a 16.59 acre valley, the retreat boasts an amalgamation of natural caves, jungle, waterfalls and geothermal hot springs.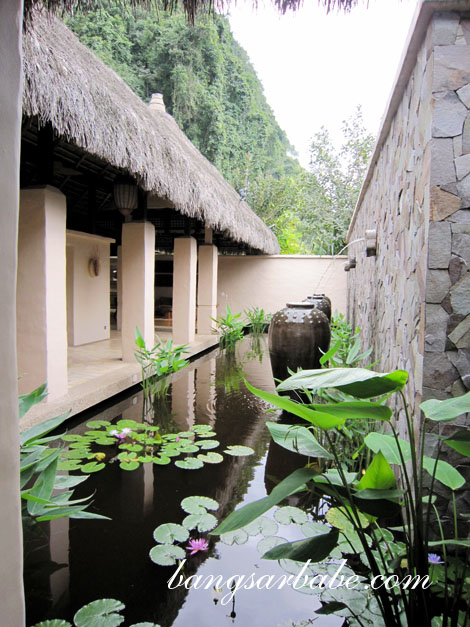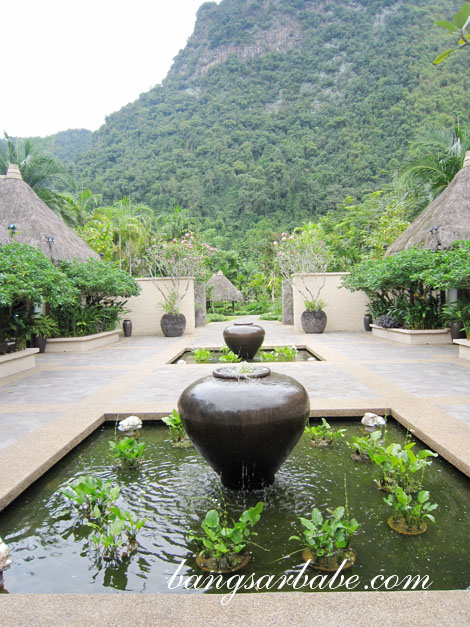 rif and I received an all paid for 3D 2N stay + spa + dinner at The Banjaran as a wedding gift from my former boss and we really enjoyed our short stay there. We were given the garden villa, which I was told was larger compared to the water villa.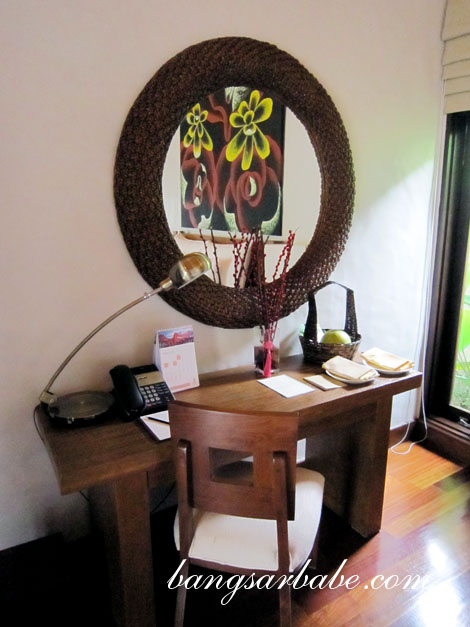 Here are the features of The Banjaran Hotsprings Retreat, taken from the website:
Eco-friendly & sustainable practices
Luxury Villas with Private Plunge Pool and Geothermal Jacuzzi
True inherent Asian philosophy of wellness and Malay Ramuan with treatments from the ancient ethnic traditions of indigenous Malay, Chinese and Indian cultures
Geothermal Hot Springs Dipping Pools
Outdoor Rainforest Shower
Free-form Swimming Pool
Garra Rufa Dr Fish Pool
Therapeutic Reflexology Path
Meditation Cave
Thermal Steam Cave
Ice Bath
Antioxidant Restoration Therapy
Fitness Centre
Spa Cuisine
Unique Excursions – 7 Wonders of Tambun, Natural sights
Jungle Trekking
Our villa was huge and very private with a plunge pool and a Jacuzzi with geothermal water piped in. I felt as though I had stepped into The Garden of Eden minus the snake – so calming, colourful and relaxing. We almost didn't want to leave our villa!
There is only one restaurant here – The Pomelo – and the menu comprises organic fruits, vegetables, fresh seafood and premium poultry with no artificial seasoning or flavourings. Our dinner was light, healthy and fairly decent. If you're not used to eating organic meals, this would take some getting used to. Otherwise, you can always stock up on tit-bits before you arrive at The Banjaran or drive out for food.
The Pomelo's Spa Cuisine philosophy encompasses the following practices:
S.L.O.W (Seasonal, Low Fat, Organic and Whole) method of cooking
Organic / Fair Trade teas and coffees
To ensure (where possible) that all fruit and vegetables are seasonal
Cotton napkins are utilized instead
Kitchen utensils especially pots and pans are green and environmentally friendly
You can also customize your meals based on the 5 pillars of wellness – Rejuvenation, Fitness, Longevity, Detox or Weight Management.
After dinner, we were given a tour of Jeff's Cellar (open from 9-11pm), a 280-million year Paleozoic cave housing the private wine collection of the founder and chairman of the Sunway Group.
While the staff were friendly and accommodating, many of them were not well-trained. I found the service on occasions disconnected; we waited more than 40 minutes for breakfast on the second day. That aside, the chocolate roll was the best of its kind I've eaten – buttery light and generously filled with chocolate ganache. I liked all the pastries served but didn't care much for the big breakfast.
Beyond the comfort of our villa, we checked out the fish spa, went to the crystal caves and enjoyed an aromatherapy massage at the Spa & Wellness Centre. The massage isn't included in the room price, so do call to enquire within.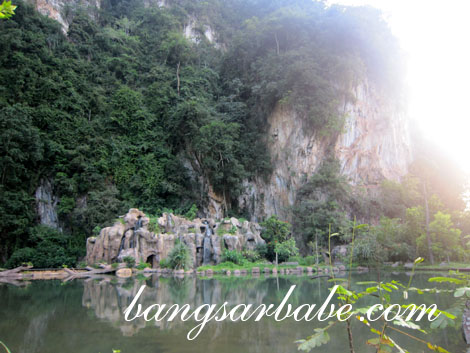 I never had a thing for holistic retreats and was quite sceptical about The Banjaran checking in. After our 3D 2N stay here, I can't wait to go back. The rooms are expensive – RM1800++ for the Garden Villa – but the overall experience is unforgettable. We left The Banjaran refreshed and also saddened that we had to go back our world of stress and pollution. :(
***
Getting There
Drive: The Banjaran is located in Tambun, 15 minutes from the city of Ipoh (head towards Sunway City) and 2 hours from Kuala Lumpur. Those traveling from Singapore can take a flight into Ipoh Airport.
Train: Take the ETS train (RM35 per single fare) which departs from KL Sentral to Ipoh. Then take a taxi to the retreat.
Like my Facebook page here.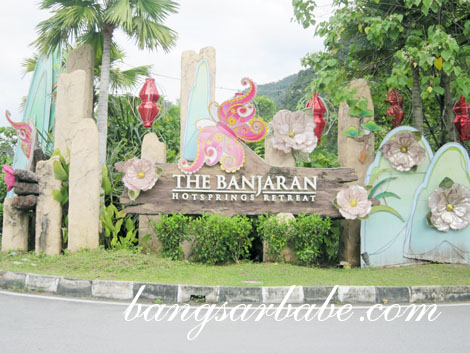 The Banjaran Hotsprings Retreat
No. 1, Persiaran Lagun Sunway 3,
Ipoh, Perak 31150
Tel: 05-210 7777
Email: [email protected]