I'm one of those people who dislike paying RM20 for a plate of CKT when I can get the same thing (or better) for RM5 at a coffeeshop. That said, ambiance plays an important role when it comes to meals with friends and loved ones. Seriously, how many of us can maintain a good conversation for a few hours in a humid coffeeshop?
My Cookbook in Sunway Giza has been on my to-eat-list for quite some time and I finally paid this place a visit with Cheryl and rif. This restaurant serves modern Malaysian dishes in a cosy ambiance, and of course, at a higher price. The owner John Teo invited us over for dinner and boy, we ate well that night!
The four of us shared a starter of chicken satay, soft shell crab with crispy salad and spicy plum sauce, black eye peas cake with salted yolk and cookbook chilli and smoked omega eggs with caviar and shimeji mushroom.
The smoked omega egg (RM8.90) was a fairly simple starter but what made it delicious was the drizzle of truffle oil (not included) John added on top. Almost everything tastes better with truffle oil, don't you think? I found the soft shell crab salad (RM12.90) pretty decent. Fried till crispy, the crab went well with the crunchy greens and piquant plum sauce.
The chicken satay is a new addition to My Cookbook's menu and I hope it stays. For RM15.90, you get 6 large sticks of skewered meat which isn't cheap, but reasonable considering the portion. There was plenty of chicken on the skewer and each bite was meaty, tender and succulent. Very tasty with the chunky peanut sauce. rif enjoyed this most among the starters. The black eye peas cake (RM8.90) had salty accents from the salted egg yolk. If you're a fan of wu tau koh, you'll love this.
Every now and then, My Cookbook dishes out new items and the assam prawn salad (RM15.90) is one of them. The prawns were fairly fresh and the sauce packed a wallop of flavour. I found this just ok, but rif and Cheryl liked it. John ordered the crispy chicken roll and fragrant rice (RM15.90) which was a glam version of the coffeeshop chicken rice. "I'm not a fan of chicken rice," I told him.
"Try this chicken rice, and you'll be forced to eat your words," he replied. John was right. The chicken roll was lovely – with crispy skin and well-flavoured chicken flesh, while the rice was fragrant from the chicken broth. Also delicious was the double boiled chicken broth that came with it. If you're used to eating RM4 chicken rice every day, you will find this expensive. But if you're open to trying new things (and are willing to spend slightly more on local food), give this a try.
Fried kuay teow is good, but fried kuay teow with duck egg is even better. My Cookbook's version uses duck egg, and the noodles come with three large prawns at the side. The kuay teow was fairly fluffy and the flavours were well balanced. Not as much wok hei as I hoped it would have, but still pretty tasty.
I expected the king prawn noodle (RM26.90) to be fantastic after hearing raves from people who tried it. It wasn't bad, but not mind-blowing either. The bisque was thick and savoury with a sweet flavour from the prawn heads but the king prawn was unfortunately, not as succulent as it should be. This came topped with My Cookbook's famous 45-minutes poached egg which I happily ate.
What impressed me was the stir-fried hor fun with king prawn and fish fillet. For RM29.90, portion was large enough to feed two adults. I liked that the crab roe sauce was eggy and thick, and greedily lapped up every bit of it. The hor fun was smooth and seasoned evenly, while the fish and prawn was adequately fresh. This was hands down my favourite of all the mains.
Desserts were lackluster compared to the mains and starters, I felt. The lemongrass jello (RM9.90) was refreshing, but hardly memorable. I didn't care much for the chilled avocado puree with yam ice cream (RM9.90) and barley & soy bean milk with black sesame ice cream (RM9.90). These tasted a bit tbland after all the rich food.
While I wasn't impressed with the desserts at My Cookbook, it was hard to find fault with their starters and main courses. It is true that prices are slightly pricey for local delights, but you also get a generous portion (at least for the items I tried) and quality ingredients. Plus, the ambiance is nice. Expensive or not, you decide. :)
Thanks John, for dinner!
Ambiance: 6/10
Price: 5/10
Food: 6.5/10 (pork free)
Verdict: If I had pick one dish, I'd recommend the stir-fried hor fun with king prawn. If you're dining in a big group, order more dishes and share.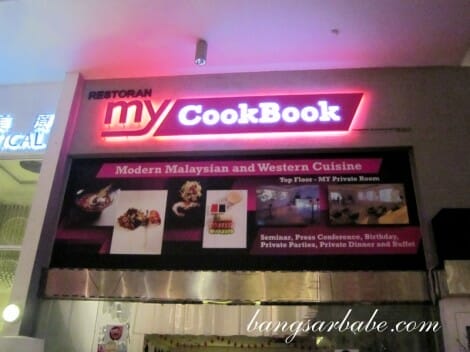 My Cookbook (Pork-Free)
A-12, Sunway Giza,
No 2, Jalan PJU 5/14,
Kota Damansara,
47810 Petaling Jaya,
Selangor.
Tel: 03-6140 6113