"Blackmore Wagyu is a 100% full blood Japanese breed wagyu with a marbling score of 9-10. Sher Wagyu is a mixed breed between an Australian Wagyu and Black Angus with a marbling score of 6-7."
~Chef Antoine Rodriguez~
"You must try the Sher Wagyu at Prime!" Chef Antoine said over coffee a few weeks ago. It was his attempt to get this creature of habit to try other things besides her regular prime rib. I've tried quite a fair bit of steaks in Klang Valley, but my best steak experience is still at Prime because it is a proper steakhouse and not a steakhouse trying to be a fine-dining restaurant.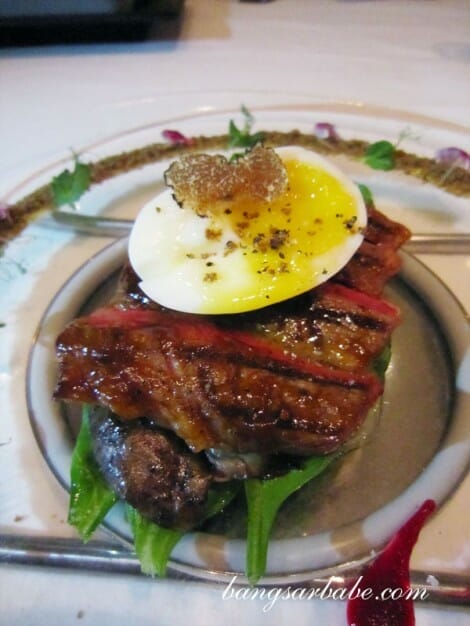 The breads are pure evil; you can never stop at one slice. Together with the trio of butter on the side, we ate slightly more than a serving of bread before getting down to some serious steak business, starting with the Sher Sirloin Steak Tataki (RM208++). Topped with half an egg – runny yolk – and a slice of truffle, the just-seared beef was ultra tender and juicy with a superb flavour. A prelude of many good things to come.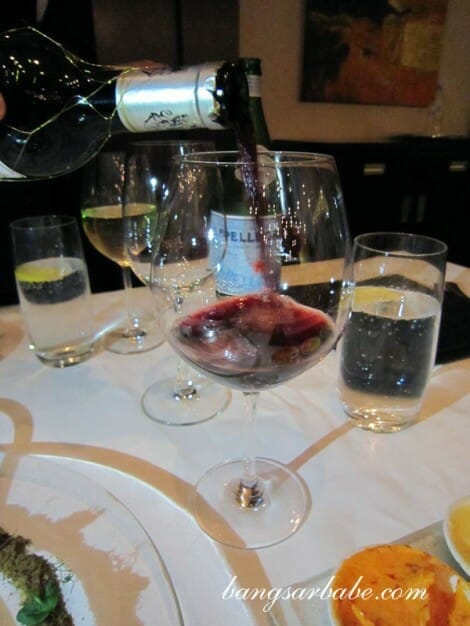 For rif, Chef Antoine ordered the Charcoal Grilled Sher Wagyu Tenderloin (RM388++) and the Grilled Sher Wagyu Rib Eye (RM288++) for me. It is usually the guy that takes the rib eye, but Antoine knows I eat like a man. Hahahaha! We sipped on red wine while waiting for our wagyu, which arrived almost simultaneously.
The Grilled Sher Wagyu Tenderloin – topped with light black summer truffle jus – came with a side of roasted fingerling potatoes and wild forest mushrooms fricassee.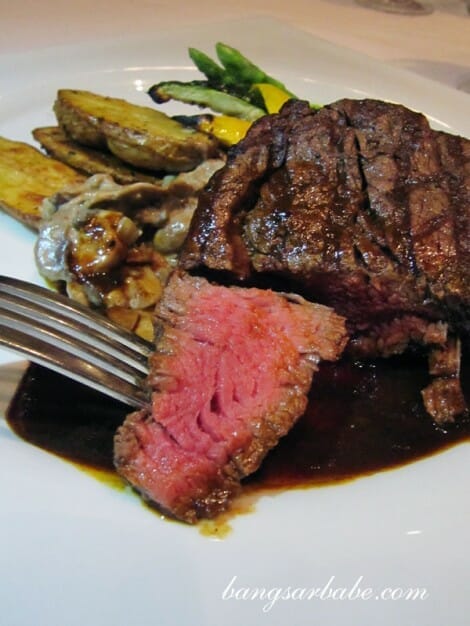 It was perfectly and uniformly medium rare, and complemented by the mild truffle jus. I also liked the roasted fingerling potatoes and mushroom fricassee – the former was crisp on the outside with a soft center while the latter had a nice, earthy flavour.
My Grilled Sher Wagyu Rib Eye was excellent. Cooked to medium rare perfection, the rib eye was invitingly aromatic, beautifully marbled and tasted delicious from the caramelized fat. This is worth screwing your diet over, seriously. It was so decadent that I ate it as slowly as possible to prolong the experience.
This came with some buttered broccolini, crispy wagyu bresaola layered with potato thyme mousseline and sweet garlic sauce. Antoine ordered a bone marrow with sweet shallot crème brulee for me to try, and it was lovely. Although, the foie gras crème brulee still tastes better.
Dessert was our regular tiramisu (RM30++) —  still hands down the best tiramisu we've eaten. Dinner was wonderful – both the food and company. Antoine cracked us up with his jokes and real life stories. I also found it hilarious that a group of people walked into Prime and ordered everything on the menu except steak!
Thank you Fauzy and Antoine, for having us over for dinner; rif and I had a good time. The Sher Wagyu promotion ends 31 December 2011. Prices start from RM208++.
Ambiance: 7/10
Price: 4/10
Food: 8/10 8.5/10* (pork free)
Verdict: Purely steak business. The rib-eye is oh-so-good!
*rif and I agreed on 8.5/10 because the meat was good, portions were generous and the steaks were beautifully presented.
Prime
Le Méridien Kuala Lumpur
2 Jalan Stesen Sentral
Kuala Lumpur
03-2263 7555
GPS Coordinates: N3 08.126 E101 41.174

View Prime @ Le Meridien, Kuala Lumpur in a larger map