*edit 22 July 2012: The curry mee stall has moved to Restoran Millennium Eighty Six in Paramount Garden.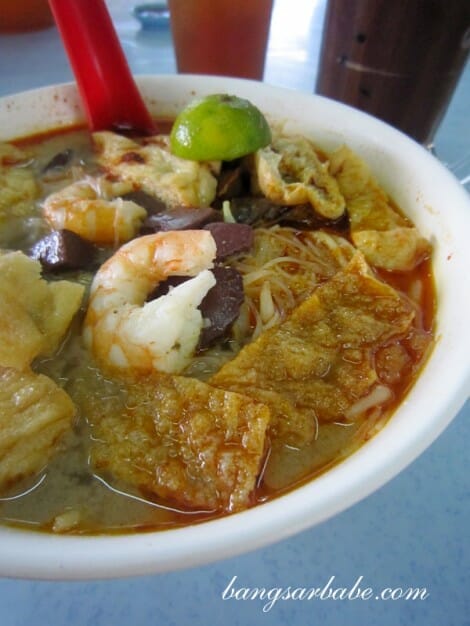 "This is soup for the soul…" I said to Ken, in between spoonfuls of laksa broth. We met up for a late breakfast/brunch last weekend at coffeeshop called Restoran Good Food in PJ State Old Town. Over dinner the night before, Ken spoke about a good Penang curry mee place and we decided to do brunch there the next day.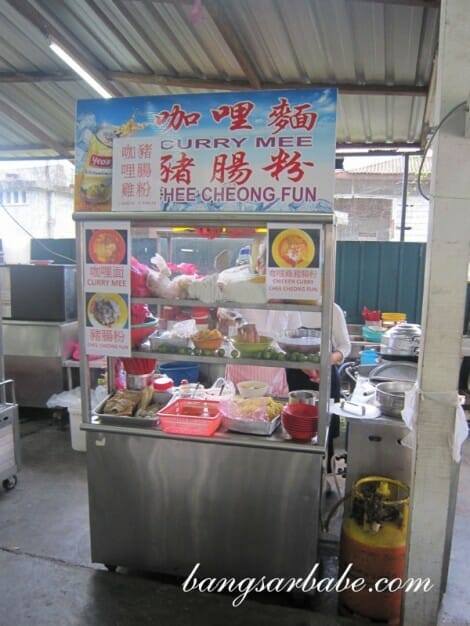 Despite eating curry mee very often, I rarely go for Penang curry mee unless I'm in Penang. Also, I find most Penang curry mee in Klang Valley to be lacking in oomph. But Ken assured me the curry mee stall at Good Food is far from bland as the auntie who prepares the broth is a Hokkien from Penang.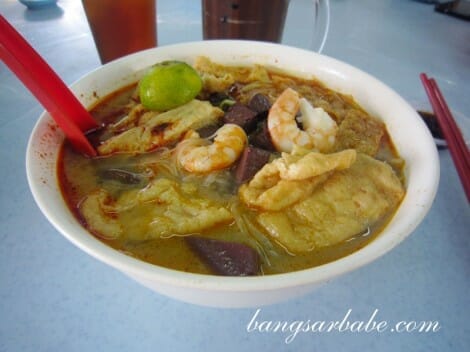 My curry mee (RM4.50 – small, RM5 – large) came with tofu puffs, prawns, cockles, cuttlefish and pork blood cubes. The chilli paste was served separately. When mixed together with the noodles, the paste thickened the coconut based soup and gave it a glorious red hue. This was one of the tastiest Penang curry mee I've eaten. Aromatic, spicy and sweetish, the chilli paste enhanced the overall flavour of the noodles.  I was told that the auntie uses plenty of prawn heads to prepare the broth, hence the fuller flavour. Shiok!
I don't like eating pork blood cubes but I did the unthinkable and ate every single piece from this stall. It was not mushy or smelly like some pork blood cubes I've tried. Instead, I found it firm and creamy. The cockles were fresh and juicy while the prawns retained its natural sweetness. I polished off the noodles and even asked for extra soup, which the auntie kindly obliged. In Penang, they usually don't give you extra soup.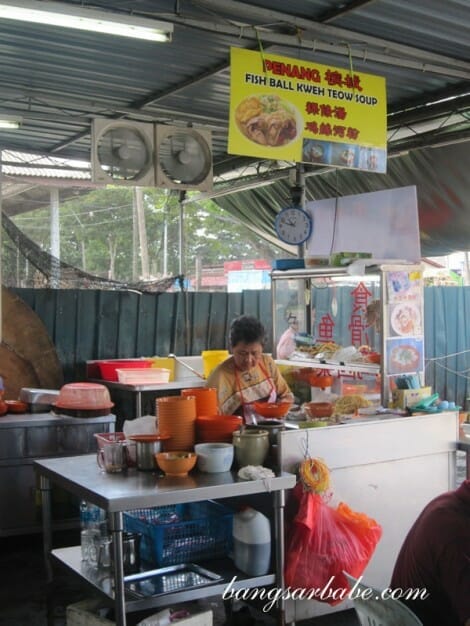 rif had the Penang fish ball kuay teow soup from a different stall. His bowl (RM4.50 – small, RM5 – large) came with chicken strips, fish balls and kuay teow noodles. Simple, but decent. The broth had a good balance of savoury and sweet flavour, and was aromatic from the addition of prawn heads. That said, I still prefer the curry mee.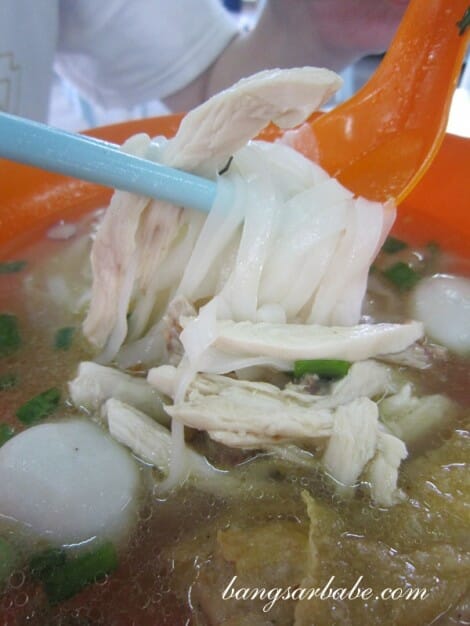 The char kuay teow was said to be good, but sadly, it wasn't opened that morning. I guess that calls for another visit soon. Thanks Ken, for the recommendation! I look forward to more makan outings with you.
Ambiance: 5/10
Price: 6.5/10
Curry Mee: 7/10
Kuay Teow Soup: 5/10
Verdict: For good Penang curry mee in Klang Valley, this is one of your best bet!
Restoran Good Food (non-halal)
Jalan Penchala
Seksyen 51,
46000 Petaling Jaya,
Selangor
GPS Coordinates: N 3 05.230 E 101 38.478

View Larger Map