"Wine makes people talk. Beer makes people fight."
Chef Tommes, owner and chef of That Little Wine Bar said to me in between main courses and sips of good wine. He may have a good point, but I don't recall feeling bullish after a few pints of beer. I do however, recall being extremely chatty after exceeding my usual wine intake. rif and I were in Penang recently, for a short visit to That Little Wine Bar.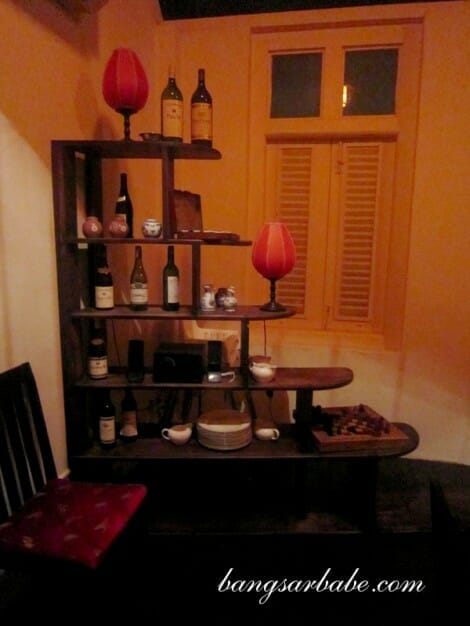 In all honesty, I didn't know what to expect as I usually go to Penang for hawker food, not for wine and proper dining. During the day, the place looked unassuming, but come nighttime, That Little Wine Bar boasted an elegant French bistro feel, with modern lighting and vintage-looking furniture. Louise, who mans the restaurant's front greeted us and lead us to a cosy table at a romantic corner of the restaurant.
Service was friendly and the food was in general, a balance of simple and savoury. Louise started us off with a glass of medium sweet Müller-Thurgau each. Light, fruity and aromatic, I found this pleasant.  To start, rif and I shared a serving of Chicken Pâté (RM18) and a French Onion Soup (RM22).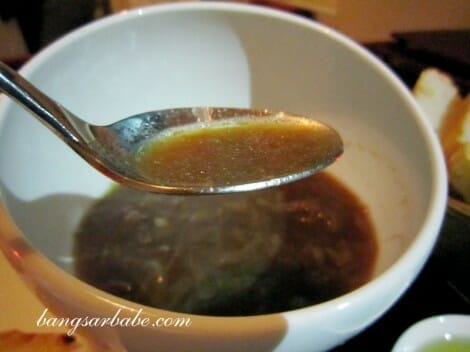 The former was dense, sweet and slightly pink; delicious when eaten with slices of crusty baguette. The soup, which came with baked cheese croustillades had a lovely sweetness from the caramelized onions and a deep flavour from the use of duck stock. The onions were slowly cooked with some white wine until softly translucent and lightly browned. rif enjoyed this more than I did – I found this a tad mild.
Thanks to Tommes, I got to do a bit of snooping around in his kitchen.  If I were to be a chef, I would be a pastry chef. The cooking station was super hot and humid, I thought my makeup was going to melt off my face! Anyway, the chef shirt was Tommes'. I had the crusted beef tenderloin (RM 45) and Steamed Mackarel (RM38) – the latter was a daily special, so you will have to check with the waiter on its availability.
The beef tenderloin was served in a pool of reduced red wine sauce with a smear of mash potatoes and mushroom royale. Cooked medium well, the tenderloin (sorry, picture of the final outcome was blurry!) was fork tender and juicy. I've never been a fan of tenderloin as it has almost no fat, but the red wine sauce and seasoning did the meat justice. The mashed potatoes were delectably buttery, but a tad sparse. I had to win the last bite of this from rif, who equally enjoyed it.
When Tommes and Louise recommended the steamed mackerel, a small part of me felt hesitant. I almost never order fish in a restaurant, because I get put off easily by the fishy smell. But the mackerel at That Little Wine Bar did the opposite. Lightly seasoned with herbs and cooked in its own juices, the fish was naturally sweet with large flakes. The red balls were potatoes, simmered in sweet beetroot broth.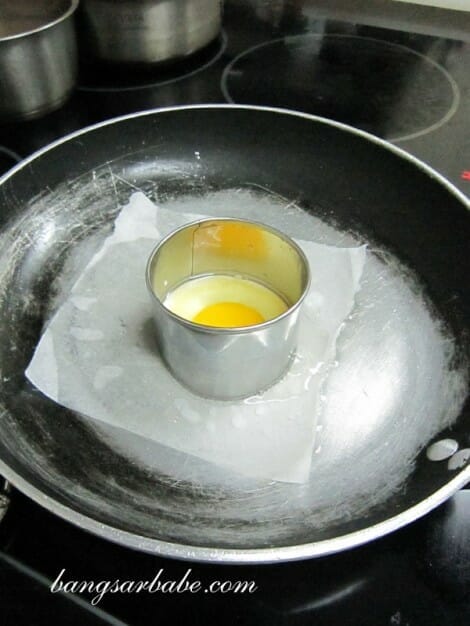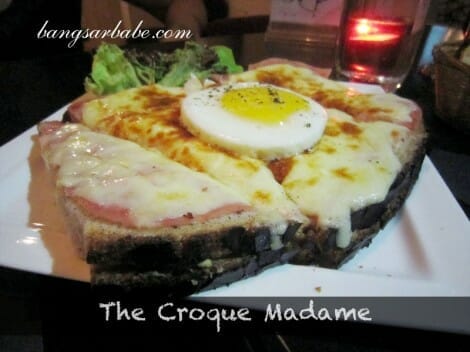 "What's that?" I asked Tommes, pointing at what looked like a large cheese sandwich. It was the croque madame, a grilled ham and cheese sandwhich with an egg on top, and it was my favourite dish that night. Cheesy, savoury and gooey at the centre, this simple dish was a gastro pleasure to me. The sourdough bread gave it a chewier and more satisfying mouthful.
We also sampled the Nunberger sausage with Franconian potato salad and sauerkraut. I liked the potato salad; the tangy flavour helped offset the richness of the mayonnaise. The sauerkraut was mildly sour, the way German sauerkraut should be.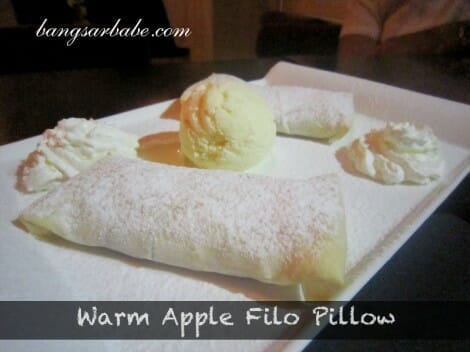 While we had a different preference for mains, rif and I both had similar views on the Warm Apple Filo Pillow. We thought it was one of the better apple strudels we've tasted. We ended the meal with some red and white Floc de Gascogne, a fortified sweet wine made of 1/3 Armagnac and 2/3 fresh grape juice. This was lovely; smooth, sweet and tasted like summer.
On a whole, we enjoyed our meal. Portions here aren't huge, are adequate enough to keep you satisfied. That Little Wine Bar has a mind-boggling (to me at least!)  selection of wines and they conduct wine classes on a weekly basis from 6.30-7.30pm. For more information on that, click here. Alternatively, you can give them a ring at +604 226 8182 or email them at [email protected]
Thank you Louise and Tommes,  for being such gracious hosts!
Ambiance: 6.5/10
Price: 6/10
Food: 6/10 (non-halal)
Verdict: Simple, yet hearty dishes and a large selection of wine. I'll be back…especially for the Croque Madame!
That Little Wine Bar
54 Jalan Chow Thye,
10050 George Town
+604 226 8182
www.thatlittlewinebar.com

View Larger Map