My first Banh Mi experience was in 2012 when I was at a popular Vietnamese shop in ION Orchard, Singapore. Everyone was raving about it but I vaguely remembered the bread to be chewy and stuffed with more vegetables than I liked. Suffice to say, Banh Mi never made it to the top of my must-eat list.
When friends spoke of Obanhmi in Damansara Uptown, I took it with a pinch of salt. Afterall, how fluffy can a baguette be, right? Well, the folks are Obanhmi bake their baguette daily to ensure all breads are crispy on the outside and warm and soft at the centre. Which is somewhat true. :)
I had the O Roasty (RM12), a hefty sandwich of roasted pork, fried egg, vegetables and a light chilli sauce. This was quite a mouthful – the pork was adequately fatty and tender, enlivened by the crisp nature of vegetables and chilli sauce. Also pretty noteworthy was the O BBQ (RM10.50) that rif ordered, filled with seasoned pork, sunny side up, homemade mayonnaise, sweet pickled carrots and tangy chilli sauce.
We also shared the O Summery (RM9) and O In The Bowl (RM11). The latter was a tangy, spicy and refreshing combination of Vietnamese vermicelli, with assorted greens, BBQ pork and fried spring roll. O Summery screamed top notes of spice, sweetness and tang. This was a light and healthy roll of cooked prawns, rice noodles, fresh herbs and vegetables, wrapped with rice paper. Best eaten with the spicy peanut sauce provided.
The Vietnamese milk coffee (RM6) was just alright for me. I found this more chocolate-based than coffee so it didn't give me that much oomph. Maybe it's because I ordered it cold, instead of a hot cup.
Lunch was slightly less than RM50 for the above. Not too shabby considering the amount we ordered (I was famished). The place gets pretty packed during lunch hours, especially on a weekday. I wouldn't mind coming back for the banh mi when the craving hits. Now, if only they served beef pho…
Like my Facebook page here.
Ambiance: 6.5/10
Price: 6/10
Food: 6.5/10 (non halal)
Verdict: Try the O Roasty and O In The Bowl. Coffee isn't great though.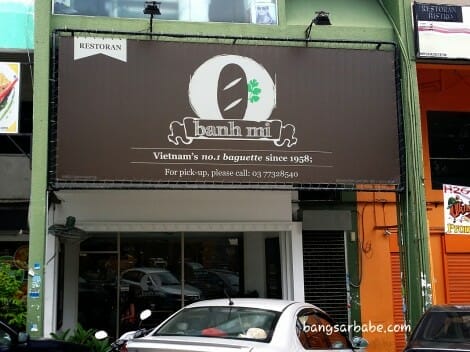 Obanhmi
No 33, Jalan SS 21/56b,
Damansara Uptown,
Selangor.
Business hours: 9.30am to 9.30pm
Closed Monday
Tel: 03-7732 8540
Facebook Page