Fried chicken is one of my diet nemeses – I find it difficult to resist the lure of crispy skin and piping hot meat, seasoned with special spices. Buttermilk fried chicken is currently at the top of my list and this is especially delicious served with poached eggs, brunch style.
Daro Crispy Chicken is a new player in town, a fast food franchise from Canada that occupies a corner lot in Bangsar Baru. The boneless chicken chop (RM10.60) comprised crispy boneless chicken leg with a side of coleslaw, fries and drink.
You get a choice of honey lemon, BBQ or peanut butter sauce for your chicken – I opted for the peanut butter. Weird combination, but the sweet and nutty nature of the peanut butter worked with the chicken. If you're not as adventurous, stick to the honey lemon or BBQ sauce.
I liked rif's Chicken Burger (RM10.60), a generous portion of crispy chicken fillet in a bun with BBQ sauce and lettuce. Also available are chicken wings (RM7.80 for 6 pieces) – original or spicy – with a choice of peanut butter or honey lemon. You can dip the wings into the sauce or just have them as they are. I prefer them sans sauce.
Service was quick and pleasant, and while I didn't care much for the chicken chop or wings, the burger is worth going back for. :)
Like my Facebook page here.
Ambiance: 6/10
Price: 6/10
Food: 6/10 (halal)
Verdict: If you want to know how peanut butter with chicken would taste like, this is one place to start.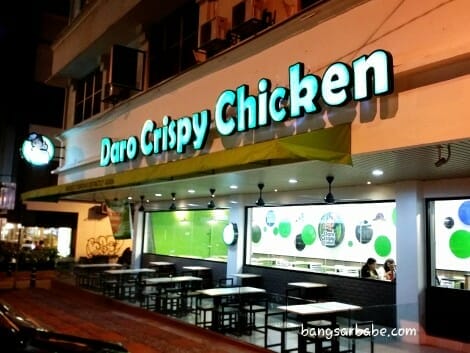 Daro Crispy Chicken
38, Jalan Telawi,
59100 Bangsar Baru,
Kuala Lumpur.
Facebook Page