I vaguely remember eating boat noodles in Bangkok; a bowl of kuay teow in beefy broth, beef slices and meatballs. But I do remember it being larger than the ones that are now making waves in Klang Valley. rif and I stumbled upon a new boat noodle place called Thaitanic in Scott Garden and decided to give it a go since our regular pan mee stall wasn't open.
Thaitanic Boat Noodles occupies two shoplots on the second floor of the complex and fortunately for us, the crowd wasn't as maddening. We got a table almost immediately but even so, the waiting time for our noodles was 20 minutes. :roll:
There are four noodle options – dry beef noodles, soup beef noodles, dry chicken noodles and soup chicken noodles. We ordered the first two. Both the broth and seasoning were light, with a deep undertone of spices. You can choose to dial up the flavours with fish sauce, lime and chilli. I personally like mine with dashes of fish sauce and lime for that burst of tang.
That said, each portion is equivalent to one mouthful of noodles so you will need to order more than 5 bowls (RM1.90 each) to feel satisfied. While I found the noodles fairly tasty, I don't fancy stacking up the bowls just for the fun of it. Plus it does add up to quite a bit. 20 bowls would cost you at least RM40, and you probably could get a nice (larger) bowl of noodles elsewhere.
Oh well, at least I tried this once.
Like my Facebook page here.
Ambiance: 6/10
Price: 6/10
Food: 5.5/10 (pork free)
Verdict: The noodles were ok, but I don't get the hype of many, many bowls stacked together.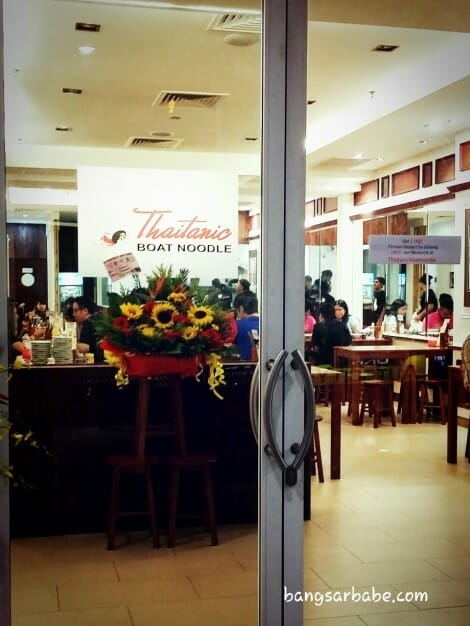 Thaitanic Boat Noodles
2-49 The Scott Garden
Level 2,
289 Jln Kelang Lama,
58000 Kuala Lumpur
Facebook Page