Top, shorts, shoes & bag: PUMA
Small getaways are one of the things I look forward to these days. There's nothing like it – you pack your bags, get off work on Friday and head straight to the hotel for a weekend away from everything. Best feeling ever!
rif and I enjoyed a 3D2N stay at the Executive Suite of Holiday Inn Kuala Lumpur Glenmarie, where we got to do things at our own pace, indulge in delicious Japanese and Chinese dishes, nibble on snacks at the executive club and we even had a 2-hour golf lesson with Tony Feminis, Head Golf Instructor of The Glenmarie Gold & Country Club.
After our welcome drink, we were escorted to our suite – spacious enough to even have a slumber party – with a view of the swimming pool and al-fresco area. The king size bed came with two types of pillow; soft and firm, to cater to each guest's preference. By the way, all rooms at Holiday Inn Kuala Lumpur Glenmarie are non-smoking rooms. Smokers will have to smoke outside the room or at designated smoking areas in the hotel.
Our suite had a separate living room, separate hanging closet, two bathrooms (one attached to the bedroom), flat-screen TV, satalite channels and excess to the executive lounge for breakfast, complimentary wireless Internet and drinks (juices, wines, beer) till 10pm.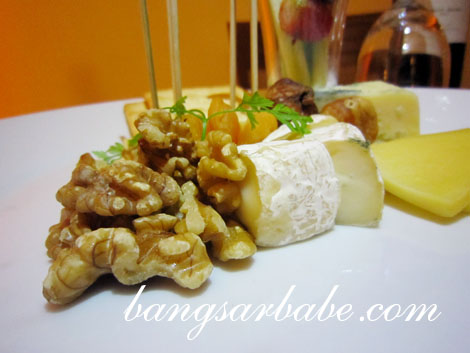 The suites at Holiday Inn were situated on the right wing of the hotel, so it felt more exclusive. I stayed at Holiday Inn on my own account last year and found the deluxe room equally comfortable but without the privileges of those staying at the executive suite.
We ate breakfast at Kites Restaurant the next morning and the following morning at Executive Lounge. Kites had a better variety, but I preferred having my breakfast at Executive Lounge because the spread quality was better and it was less crowded.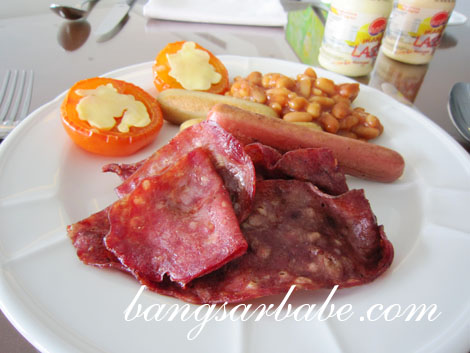 I also liked how polite and accommodating the staff were – they were quick to offer a refill of drinks, not just to us, but to all the guests at the lounge.
Tank top & shoes: PUMA
Sunglasses: Ray-Ban
I've never played golf before and mentioned to Tony that I thought golf was for retired people; he told me he would prove me wrong. We practiced our swing with the 7-iron for an hour before learning how to use the putter. Golf isn't as boring as I thought it was – it's actually very relaxing and therapeutic. Imagine the ball as the head of someone you can't stand…and swing your stick! :P
Tony taught us the basics, like how to grip and re-grip the golf club, how to stand when you're trying to hit the ball and how to estimate the terrain. And the harder you attempt to hit the ball, the less impact you will make with your swing. Let it come naturally, Tony said. The game grows on you – at least it did on me. Now, I wouldn't mind hitting a few balls during the weekend…just for stress management leisure.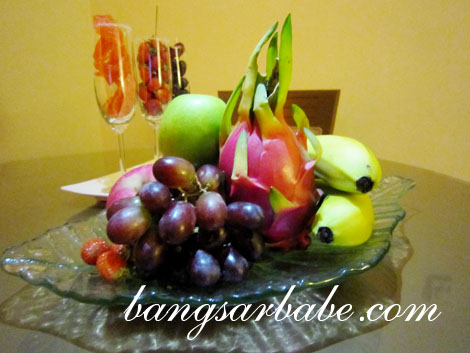 The Deluxe Rooms range between RM260++ to RM320++ per night while the Executive Suite I stayed at cost RM630++ per night. Thank you Sagina of Holiday Inn Kuala Lumpur Glenmarie, for your kind hospitality!
Like my Facebook page here.
Holiday Inn Kuala Lumpur Glenmarie
1 Jalan Usahawan U1/8
Seksyen U1,
40250 Shah Alam
Kuala Lumpur,
Malaysia
Tel: 03-7802 5200