Southern Indian cuisine is less rich compared to Northern Indian cuisine, but can be just as tasty from the clever blend of chillies and spices. When I feel like having a fiery, spice-dominated dinner, I always opt for a restaurant that serves Southern Indian dishes. rif and I have never been to Sentul Curry House in Jalan Ipoh, but my father in-law spoke very highly about the food there each time we talk about curries.
The selection of dishes – lined up at the counter, nasi kandar style – was impressive. From thick curries and hot rasam to stir-fried vegetables, we were spoilt for choice. In the end, we decided on the mutton curry (RM12), brinjal with chilli paste (RM4.50), fried cabbage (RM4) and a crab cutlet (RM6). We also helped ourselves to some fish curry and dhal to go with our rice; rif had plain white rice (RM1.50) while I tried their briyani rice (RM5 per plate). The latter was aromatic, fluffy and well separated.
My father in-law was right. The curries were good especially the fish curry and mutton curry. The former was thick, spicy and subtly sour – very tasty with rice. Those who can't take overly spicy food should go for the dhal, which was mildly spiced, creamy and good in its own way.
I really enjoyed the mutton curry – the tantalizing aroma of spices and chilies permeated the meat, right down to the juices. This might be a little rich for some, as the flavours are multi-layered and complex. I found it a pleasure to tuck into.
The mutton was incredibly tender and had such delicious fat. Not good for the cholesterol level or waistline, but so good for the taste buds! I found the brinjal just alright. This was adequately tender but very oily. The fried cabbage was tastier and probably healthier as it wasn't swimming in oil. Still, I didn't care much for it.
For RM6, we thought the crab cutlet was pretty good value for money. The cutlet was judiciously seasoned and had a generous amount of crab meat, egg and shredded cabbage. I like that the restaurant didn't stinge on the crab and the cutlet was sweet and juicy from the flesh of the crustacean.
Rif and I shared an apam (RM1.20) which was made to order. This was pretty good – the batter was crisp around the edges with a soft, fluffy and sweet coconut-flavoured centre. It went well with my masala tea (RM2.50) but I still prefer the apam from Lucky Garden in Bangsar. My tea was nothing to shout about – it lacked oomph.
Our dinner came up to RM34 including drinks. For the dishes we had, I found it quite reasonable. Give it a try and let me know what you think! Getting to Sentul Curry House is quite easy – it is almost across the road from Dynasty Hotel, where Ban Lee Bak Kut Teh is.
Ambiance: 5/10
Price: 6/10
Food: 7/10 (pork free)
Verdict: Thick and richly flavoured curries and prices that won't burn a hole in your wallet.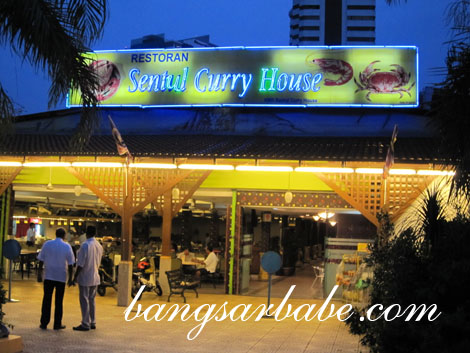 No.239 Batu 2,
Jalan Ipoh,
51100 Kuala Lumpur
03-4044 0564