Just a stone's throw away from Nasi Kandar Ibramsha, I find the nasi kandar at Kudu bin Abdul slightly tastier than the former. I reckon many people feel the same way, as the queue here is almost twice as long. I had to queue for a good 20 minutes before I got to the front of the line.
While waiting for my turn, I saw a man taking kari telur ikan (fish egg curry) and it looked promising. I asked for the ayam madu (honey chicken), fish egg curry, a few pieces of okra and kuah banjir. My plate cost me slightly less than RM10, which was reasonable considering how the fish egg was fairly large.
The combination of curries gave the rice a delicious aroma and flavour. If you like your rice to be extra 'banjir' you can always ask them for an extra plate of kari campur. I found the honey chicken juicy and tender, and it went nicely with my curried rice. The fish egg gave the dish a creamy, lemak flavour; I enjoyed this.
I was told the prawn curry is worth trying, but a plate of rice with prawn curry and egg can go up to RM20. Maybe I'll try this next time when I'm feeling more generous.
Read about my nasi kandar hunt in Star2Sunday here.
Ambiance: 4/10
Price: 4/10
Food: 7/10
Verdict: The Nasi Kandar here is quite good, but depending on your order, prices can be steep.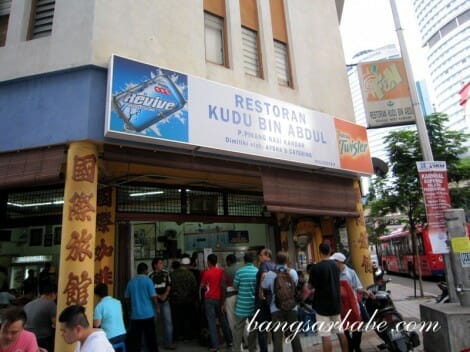 Nasi Kandar Kudu bin Abdul (halal)
335 Jalan Tunku Abdul Rahman
50300, Kuala Lumpur
Tel: 0162872123
GPS Coordinates: N 3 09.637, E 101 41.833