I first tried Pak Rosli's mee rebus when a friend bought a packet for me – despite it being a few hours old, the mee rebus was still delicious. Since rif's parents enjoy mee rebus more than I do, we decided to hunt for this mee rebus stall in Masjid India.
On a Saturday, Masjid India was bustling and we had a tough time finding the stall. Lucky for us, a kind man led us to the stall located behind Haniffa Textiles. My mee rebus (RM3.50) came with yellow noodles, hard boiled egg and beansprouts. Topped with green chilli slices and aromatic fried shallots, I enjoyed this.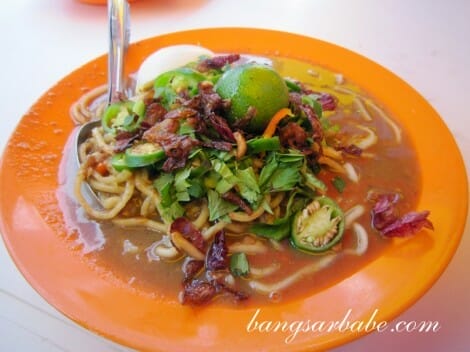 The broth, made from beef stock and fat, packed a wallop of flavour. If you're a fan of beef noodles, you will like this. A squeeze of lime gave the noodles a hint of sourness and helped cut through the rich flavour of the gravy. Simple yet comforting, it was one of the best mee rebus I've tried. I prefer this to the mee rebus at Dang Wangi and Sin Seng Nam because of the beefy flavour.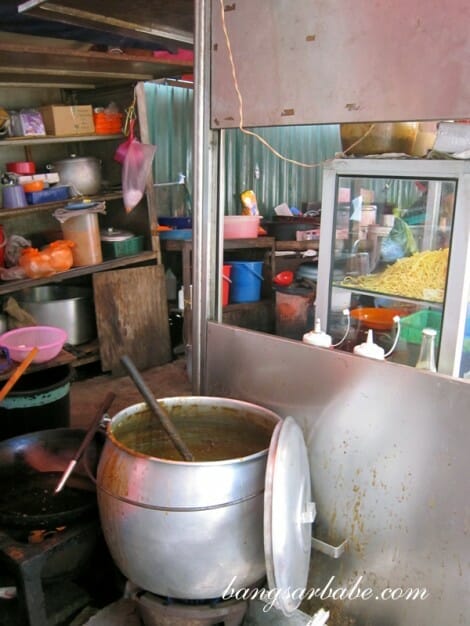 Go try this and let me know what you think!
Ambiance: 3/10
Price: 7/10
Food: 7/10 (halal)
Verdict: Simple yet hearty, this is one of the best mee rebus I've tried in KL.
Rosli Mee Rebus
Lorong Bunus 4
Off Jalan Masjid India
50100, Kuala Lumpur
019-280 3171, 017-641 3463
Business hours: 9.30am – 4.30pm
Closed on Sunday
GPS Coordinates: N 3 09.121, E 101 41.814