The Market Hall in Pavillion is a concept eatery with an open kitchen, wooden block tables and shelves with dried food items. While many people liked the décor, I didn't think too much of it. Service was a bit of a downer as the staff were busy chatting among themselves to bother taking down our orders.
The complimentary breadsticks were made using pizza dough and served with salsa. I didn't care much for this – the bread was thin and crispy, but I prefer soft rolls and salted butter anytime. The detox juice I tried was called Energy Booster (RM12.50) and it comprised fresh ginger, lemon juice, carrot and apple. Unless you're a fan of ginger, you probably wouldn't like this.
rif and I had a starter of Spicy Clam (RM24.90) to share after spotting the couple a few doors away tucking into it heartily. The clams, tossed in white wine, garlic and chilli made a lovely starter. I couldn't stop sipping the broth – sweet, spicy and savoury at once – and the clams were fresh and meaty. I almost ordered another serving.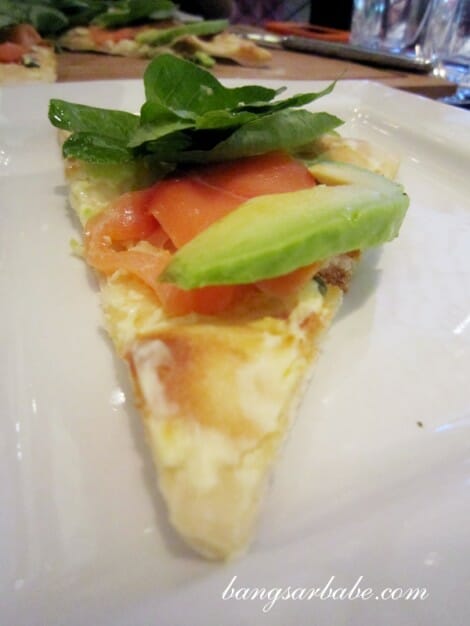 I didn't like the Smoked salmon, avocado, cream cheese, capers, fresh dill and baby spinach pizza (RM34.90). There was too much crust and the topping was quite scant – the whole thing tasted dry. For RM34.90, I didn't think the ingredients were justified.
Lamb Balti Pie (RM28.90) sounded like a more interesting choice compared to the tagliatelle pasta and it wasn't too bad in taste. I fished out several large chunks of Moroccan spiced lamb under the fluffy rice pilaf. The puff pastry helped seal in the flavour and aroma of the ingredients and kept the lamb pieces tender.
We skip desserts because we didn't fancy any on display that night. Dinner wasn't expensive, but it wasn't cheap either. For the prices we were paying, portions could have been more generous. That said, smaller eaters will find the portion sufficient.
Ambiance: 6/10
Price: 5/10
Food: 5.5/10 (pork free)
Verdict: I found the food decent, but not memorable. That said, I wouldn't mind having the spicy clams again.
Market Hall
Lot 6.01.03 & 6.01.04, Level 6
Pavilion KL Shopping Mall,
No. 168, Jalan Bukit Bintang,
55100 Kuala Lumpur
03-2141 9620
Website: https://www.markethall.my/