Hokkaido Prefecture is one of the more popular tourist spots in Japan, but most of them focus on the sights and culture of Sapporo town. I had the pleasure of visiting the less travelled path of Hokkaido Prefecture – taking in all the beautiful sights and experiencing the local culture as I went along each day. From New Chitose airport to Memanbetsu, we took a short flight via JAL – local flights are on good deals at the moment if you're using the Japan Explorer Pass.
I was told by y tour guide that tourists pay less for their internal flights compared to locals. ANA also offers similar promos so expect to pay between JPY 5,400 to JPY 10,800 depending on the date and time. I find this similar to our local flight carriers, but the plane is larger and service is good! #truestory
Visit: Asahigaoka Park
Located on a hill in Memanbetsu, Asahigaoka Park offers 360-degree view of Lake Abashiri-ko to Mount Shari and Shiretoko mountain range. During summer and autumn season, the area is surrounded by beautiful sunflowers that are almost as tall as you! I had so much fun playing in the midst of all those flowers and they look really nice in photos too.
Postal Code:
099-2362
Address:
Memanbetsuasahi, Ozora-cho, Abashiri-gun, Hokkaido
Visit: Gurutto Panorama Bihoro Pass
Soon after we visited Asahigaoka Park, we went to Bihoro Pass (美幌峠 Bihoro-tōge), where you get the most amazing views over Lake Kussharo just near Akan National Park. While you're there, drop by Gurutto Panorama Bihoro Pass (ぐるっとパノラマ美幌峠), where souvenirs and fried snacks are available. This prefecture is known for potatoes and corn, and the grilled corn is by far the best I've eaten in my life!
Visit: Ginga-no-taki/Ryusei-no-taki Falls
Popularly known as the "husband and wife" waterfalls, Ginga No Taki is a graceful waterfall with water flowing like white threads (like the milky way), while Ryusei No Taki has strong water currents falling about 90m.
The falls are also known as Otoko Taki (male waterfall) and Onnna Taki (female waterfall), which flow at an angle facing one another. In winter, the waterfalls freeze up and form massive ice pillars – a picturesque scene I was told.
Visit: Hokkaido Ice Pavilion
It gets really, really cold during winter in Hokkaido due to its location up north. If you're ever in Hokkaido during summer or autumn, you can still experience winter at the Hokkaido Ice Pavilion in Kamikawa.
Upon entry, you'll be given a set of winter coat and wet towel before you're ushered into the -20°C zone. Here, everything is covered in ice. Including your wet towel, which will be frozen solid. There is another extreme cold room where the temperature is set at -41°C. Here, you can blow bubbles and catch them again without them bursting due to the extreme cold.
When you exit the ice pavilion, you get a cup of hot tea and a cookie to warm up the body. Fun experience, I must say!
Visit: Kitanomori-Garden
Kitanomori Garden is a relay point for those travelling around Mt. Daisetsuzan. We made a pit-stop for lunch after visiting the ice pavilion where we tucked into a sumptuous meal of local-style hotpot. The garden area is ideal for walking around, shopping for souvenirs and also food products from the local farms.
Stay: Kitoushi Shinrin Park
One of the more interesting hotel concepts during my time in Hokkaido – we were given a villa to experience at Kitoushi Shinrin Park. You get to enjoy the onsen nearby and cuddle up in your futon at night. It took us a while (and some Google research) to figure out how to assemble a futon.
I found the experience an eye-opener as I rarely get the chance to sleep on a futon, let alone stay in a Japanese-style cabin.
Visit: Daisetsuzan Asahidake Ropeway
Daisetsuzan Asahidake Ropeway leads to Mt. Asahidake, the highest peak in Hokkaido at 2291m in height. The ropeway connects the ground station at 1100m to the station up in the mountain at 1600m, and is Hokkaido's leading tourist spot because it offers beautiful views of the mountain in all four seasons.
Daisetsuzan Asahidake Ropeway is very popular during September when the leaves begin to change colour due to Autumn. Unfortunately for me, I was there when Autumn was just beginning so I didn't get to see that many leaves change colour. I can only imagine how beautiful the Around the ropeway, you can explore the natural landscape and take in beautiful sights of the mountain and its surrounding. This was my favourite part of North Hokkdaido.
Eat: Sunagawa Highway Oasis
We made a pitstop at Sunagawa Highway Oasis for lunch and also to indulge in some shopping – the Japanese black curry is a popular option in this area, so if you're there, do try it. I liked the curry as it was spicier than the regular Japanese curry with a deeper, caramelised flavour. It goes especially well with homegrown Sorachi vegetables.
Sunagawa Highway Oasis is one of the places where you get to do your shopping for souvenirs. There's plenty of shops selling local specialty snacks with samples, so you get to try them before deciding on your purchase. Don't forget to try the Hokkaido soft serve ice cream while you're there!
Visit: Iwase Farm
Iwase Farm (岩瀬牧場) has more than 100 years of history in Sunagawa city, boasting 200 milk cows bred on grassland of about 172 acres with a reputation for producing the best fresh milk. As such, the gelato produced by Iwase Farm is also very good.
There are more than 12 gelato flavours to choose from and their best seller remains the fresh milk gelato. Jien and I shared a double scoop gelato (JPY310) of fresh milk and strawberry millefeuille – both excellent in their own right. It was so good we ordered another double scoop to share, second time around, the fresh milk and hojicha flavoured gelato.
Eat: Kitakaro
Hokkaido is known for producing some of the bet Japanese desserts and sweets, so a visit to Kitakaro Patisserie is a must. This is where you find the famous Hokkaido sweets and snacks, baked in-house and packaged for purchase.
You will find a lot of Kitakaro products at the airport and many souvenir shops, but nothing beats going to the source. This is also a place for you to sit back, relax and enjoy a leisurely and very affordable afternoon tea (JPY650 for a set of three cakes and coffee or tea) with their range of delicious pastries and cakes available.
Eat: Kitanogurune
Kitanogurune is a wholesale seafood market in Sapporo Central, where the freshest and best quality seafood can be found. Enjoy the freshest of sashimi and just-grilled items at reasonable prices here, best paired with Sapporo Classic – a specialty beer only available in Hokkaido Prefecture.
I had a ball of time tucking into all the sashimi can I stomach – from tuna belly, Hokkaido sea urchin and hairy crabs, to thickly slices salmon and scallops. Definitely a must-visit for sashimi lovers!
Visit: Lake Shikotsu
I didn't peg myself as an outdoor person, but surprisingly, I enjoyed my time kayaking at Lake Shikotsu. This lake is popular for fishing and boating, located west of Chitose. It is a crater lake formed more than 40,000 years ago by volcanic activity with a maximum depth of 363 metres – the second deepest lake in Japan.
You can opt to go on a kayak, pedalo or just simple walk around the lake and take in the beautiful scenery. I spent most of my time kayaking around Lake Shikotsu, going to the centre of the lake and then into the smaller river steams where small fishes can be found.
Shop: Mitsui Outlet Park Sapporo Kitahiroshima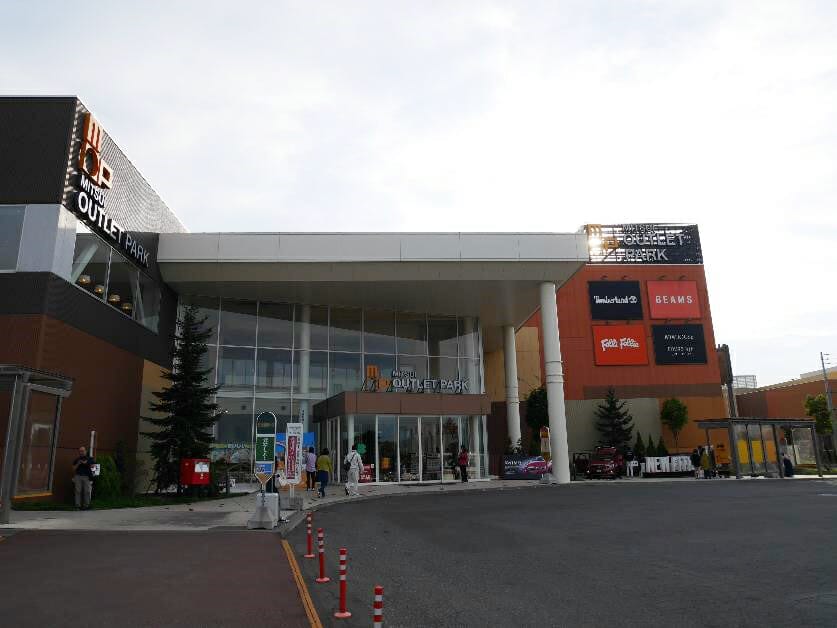 Shopping is a must when there's a designer outlet park nearby – in my case, it was the Mitsui Outlet Park in Sapporo Kitahiroshima. We spent about 2.5 hours walking around the outlet park where some of the best deals can be found.
Fans of Onitsuka Tiger will love the massive discounts available. Jien couldn't help but buy three pairs of sneakers because it was so affordable! Japan carries more variety and colours when it comes to designer goods, from my observation.
You'd be able to find some of the newer arrivals on discount here so make sure you leave some luggage space for your shopping!
***
Our time in Hokkaido was enjoyable albeit short. There were many more places I wished we could explore, especially the outskirts of Sapporo which is quite large and requires about 1 week or so to visit. If you're planning a trip to Hokkaido, do consider checking out the countryside and mountains and those are where the culture is richest and the people, friendly.
A good time to go to Hokkaido would be Autumn as the weather is cold enough for us to enjoy but not too cold to a point we need to wear many layers of clothes. Also, there's just something about red/orange/brown maple leaves that appeal to me. :)
Bangsar Babe on Facebook  Bangsar Babe on Instagram