The word okonomiyaki doesn't roll off my tongue smoothly; I often get stuck after o-ko-no, which annoys me. OKONOMIYAKI: It's a cabbage-laced pancake that doubles up as an omelet with squiggles of mayonnaise, sweet-sour brown sauce (that is almost teriyaki-like) and shaved bonito flakes on top. I've never eaten one, but a few people recommended this after reading my post on Gindaco Takoyaki. Since the okonomiyaki stall was right next to the takoyaki stall, I thought, "Why not?"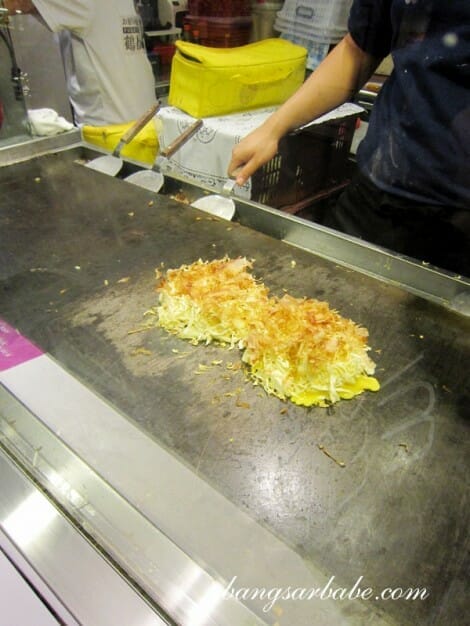 There is a choice of plain cabbage, pork, prawns or seafood to add into the okonomiyaki – I went for the obvious: pork (SGD5.50). The cook poured the flour batter, water and egg on the hot grill and while waiting for it to cook, he added cabbage shreds, scallions and your choice filling. He cracked an egg on top and waited until the pancake was properly cooked. The whole process took about 20 minutes.
It doesn't look very pretty because the auntie placed my pancake/omelet into the plastic container before I had a chance to snap a picture. The sides were grilled till crispy and the centre was gooey and almost fluffy, like the centre of a good takoyaki ball. Minced pork bits were buried in there, giving the okonomiyaki a fuller bite.
That said, I didn't enjoy this as much as I enjoyed the takoyaki; it was tasty, but not exactly mind-blowing. rif however, liked the okonomiyaki better so you'll have to try this and the takoyaki to decide which one you like best.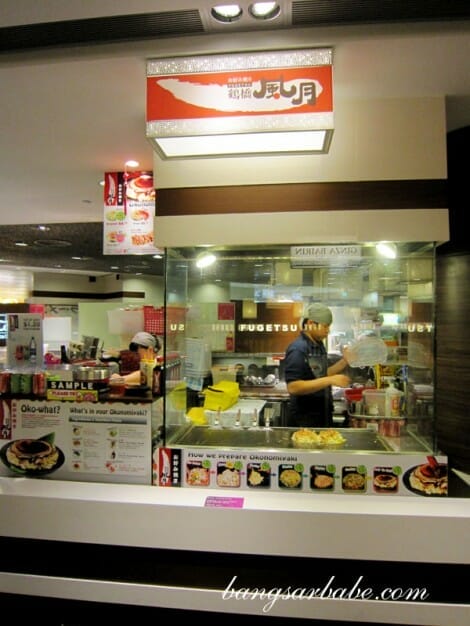 Okonomiyaki Fugetsu
#B4-66,
ION Orchard