It's been a while since I last went to SOULed OUT – my last visit was for the Authur's Day event in 2010. That's not because I don't like the food there, but WIP is literally 3 minutes from where I live.
SOULed OUT in Hartamas hasn't changed much. It is still very crowded and even more so since it's year end and people are in their party mode. For New Year's Eve, SOULed OUT has adopted a beach party theme where the party is titled Copacabana. You can walk in wearing your most stylish swimwear – less is more – hahaha! Too bad I can't fit into my tiny bee-kee-nee, or else, I would be walking into SOULed OUT dressed like this.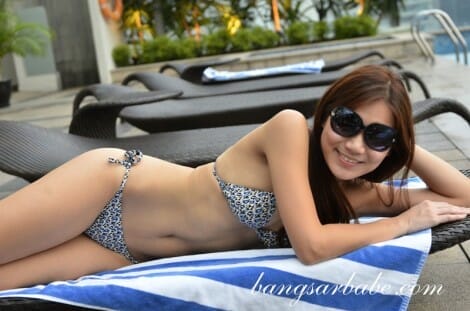 I sampled a few items from the buffet menu which comprises Brazilian treats. Think skewered meats, Calde De Res, Moqueca, salsa chicken and all the works. Fresh oysters, prawns and mussels are also available on the buffet spread, so indulge! My favourite of the 'beach bites' I sampled was the Moqueca, a Brazilian seafood stew that tasted like a Western seafood masak lemak. The stew was creamy and heavily infused with spices.
Another dish I enjoyed was the Jerk style baked Grouper. The fish was smooth, firm and flavourful from the spicy marinade. I thought the beef kabobs were overcooked and rather chewy – hopefully, the chef will take note and rectify it before this Saturday. If you love salsa dips, you will like the tangy salsa chicken. I wasn't a fan of this as I like my dishes to be richer in flavour.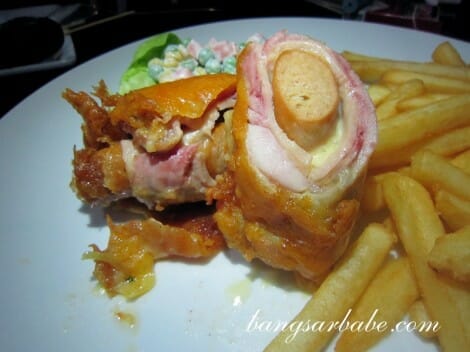 The other dishes we ate were from the ala carte menu, because Fanny knows my favourite dishes – chicken cordon blurr, lamb shank, fried calamari, sake san and chocolate lava cake. These are available on a daily basis, but not during their New Year's Eve party.
Party starts from 7pm onwards and the buffet cost RM150nett per person and is inclusive of one drink (Tiger, wine or house pour). But that's not the only party by the SOULed OUT group.
WIP's New Year's Eve bash theme is "Goa to Ibiza" with a coastal resort atmosphere. Food will be served on sticks or dipped into hot pots – perfect for meat eaters. The buffet at WIP also costs RM150nett per person and is inclusive of one drink (Tiger, wine or house pour).
At 7atenine, the party theme is "Geisha" and the outlet will have touches of old world Japan with paper lanterns and umbrellas. Come dressed in your best Harajuku styled outfits and party the night away. Down Saketini shots and tuck into eight platters of Japanese delicacies ranging from the popular Chirashi Zushi and Kaki Age to the more exotic Miso Swordfish, Salmon Tempura and Hamachi Nigiri. The ticket is priced at RM197nett per person.
SOULed OUT Ampang is taking on the Arabian Nights theme with belly dancers, snake charmer and fire eaters to keep you entertained. Guests will be treated to a complimentary glass of tipple and a spread of Tabbouleh, Fattoush, Hummus, Lamb Tikka, Fve Spice Chicken, Garlic Squid Tikka and more. Ticket is priced at RM130nett per person.