Oysters are never my favourite thing to eat because I hardly come across good ones. The ones available during buffets are not as fresh and I would like them to be, so I seldom take more than two. At Le Meridien recently, I was introduced to the Royal Siraj Oyster, an award winning species named after Yang di-Pertuan Agong Tuanku Syed Sirajuddin Syed Putra Jamalullail. The oysters are available at the bar, along with a variety of condiments, lemon wedge and Tabasco sauce.
I watched as the oysters were shucked on the spot and carefully placed on a bed of ice to prevent the precious liquid from spilling out. These were delicious – pearl white content and deep cupped shape – the oysters were sweet and fatty with a mild saline taste. I finished ½ dozen with ease, and was tempted to indulge in more.
"Here…try this!" Chef Antoine said, while scooping some Tobiko Sauce and American Cocktail on two oysters. The former gave the oyster an interesting twist, but I didn't care much for the American Cocktail – it tasted like Thousand Island sauce; a bit passé. The best way to savour these oysters is with a squeeze of lime and a dash of Tabasco sauce, I feel.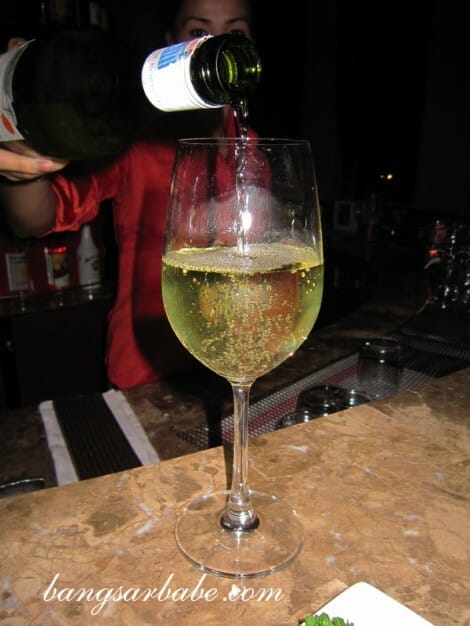 With the oysters I drank a crisp and citrusy sauvignon blanc, which complemented the sweet and briny flavour of the oysters. These may not be Canadian Oysters or Sydney Rock Oysters, but they taste just as delicious, if not more, since they are available locally.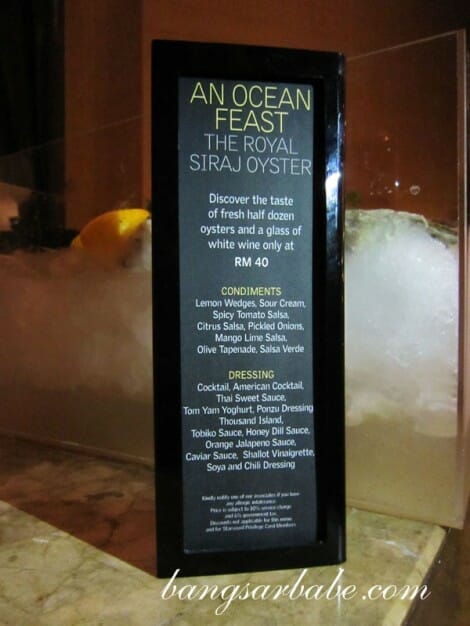 The Royal Siraj Oyster is available at Conservatory from Wednesday to Fridays between 6pm – 9pm for RM40++ (1/2 dozen) inclusive of a glass of wine. Promotion ends 31 December 2011.
Ambiance: 7/10
Price: 6/10
Oysters: 7/10
Verdict: The oysters were sweet and fatty with a mild saline taste. Good stuff!
Conservatory
Le Meridien
2 Jalan Stesen Sentral,
50470 Kuala Lumpur
03-2263 7434