"Let's go to Teluk Kumbar to watch the sunset and eat seafood," our friend Chor said after our meal at Padang Brown. Since my geography sucks, rif explained that it was on "the other end of the world" in Penang. The drive to Teluk Kumbar took about 45 minutes from Padang Brown, but the road leading up the place was bumpy. Expect to find little children riding their bicycles without a care, so do be careful.
That evening, we dined at Hai Boey, located in Gertak Sanggul. "Hai Boey" means "End of the Sea" in Hokkien, where customers can enjoy the sunset and sea breeze while tucking into their food. Between the 7 of us, we ordered a claypot garoupa (RM9 per 100gm), seaweed tofu with enoki mushroom, Marmite pork ribs, salted egg yolk prawns and steamed sour and spicy clams.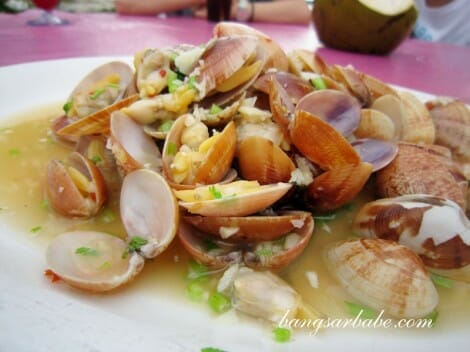 The food didn't take long to arrive, partly because we were there at 6pm. I liked the broth of the steamed clams; spicy, sour and fragrant from the addition of garlic. If you can't take spicy food, this might be a tad fiery for your liking.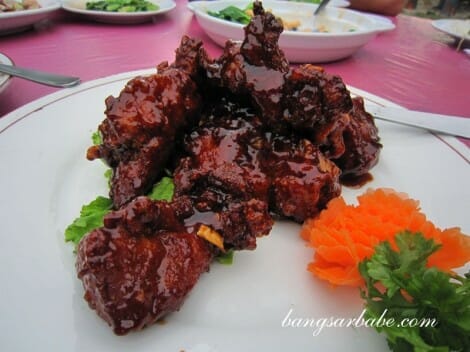 I thought the pork ribs were nothing to shout about. For starters, there were more bones that meat and the sauce tasted rather one-dimensional. Also, the meat could have been more tender, as I had a hard time removing it from the bones.
While the pork ribs were disappointing, the prawns were lovely. Coated with a layer of salted egg yolk gravy, the prawns were sweet, crunchy and finger-licking good. A pity portion was so tiny – our waitress ordered everything 'small' for us, despite us telling her we were big eaters.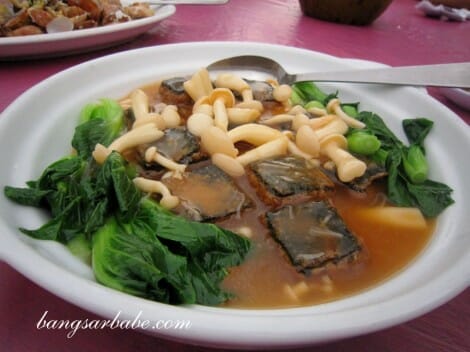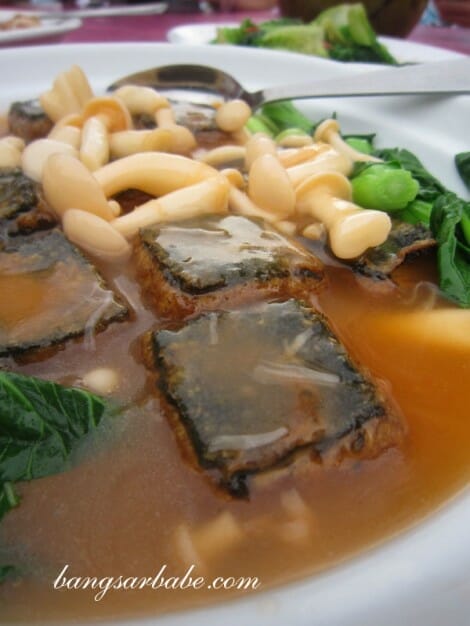 Braised in sticky brown gravy, enoki mushroom and pak choy, the seaweed tofu is a house specialty. However, I didn't find anything special about this. The tofu was properly prepared, but it was of the plain variety, rendering it bland and tasteless.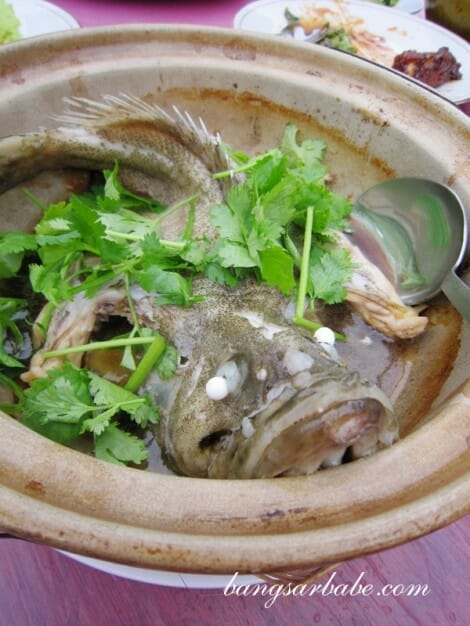 The claypot fish was decent. Cooked with light soy sauce and rice wine, the fish was firm and smooth. I helped myself to both the fish cheeks, since the rest of them were too preoccupied with the flesh.
The food at Hai Boey was a hit and miss for me – I would return for the prawns and clams, but not for the pork ribs. Portions were small, so do remember to ask for large servings if you're dining in a big group. Our dinner came up to about RM170 for all the above; not exactly cheap, but cheaper than the seafood places along Batu Ferringhi and Gurney Drive.
Ambiance: 6/10
Price: 5/10
Food: 5/10 (non-halal)
Verdict: Lovely sunset view but mediocre food.
Hai Boey Seafood
29 MK 9, Pasir Belanda,
Teluk Kumbar, Gertak Sanggul,
11900 Bayan Lepas.
Tel: 0134881114 / 0124981114 / 0194791114
Business hours: 6-11pm
GPS Coordinates: N5 16.937 E100 13.053

View Larger Map