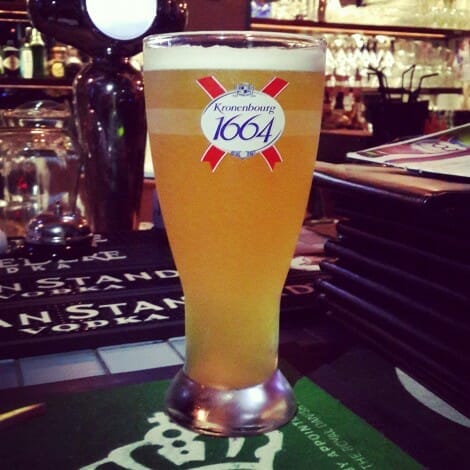 Kronenbourg 1664 was launched slightly more than 2 years ago and has become one of my favourite beers to drink. As the only beer that uses Strisselspalt hops – a French aroma hop from Alsace – Kronenbourg 1664 boasts citrusy and floral notes, on top of a delicate yet well-balanced aroma.
The brand's unique qualities are also ideal for food pairings, and evidently so at a recent Kronenbourg 1664 Pairing Dinner at Svago. Our first course was a Creamy Organic Salmon Mousse, paired with Somersby Apple Cider, another brand under the Carlsberg Malaysia portfolio.
This dish was a pretty assemblage of salmon mousse in Scottish smoked salmon, rocket, cherry tomatoes and citrus dressing. It was a rather heavy starter, but nicely balanced by the crisp finish of the cider.
Kronenbourg 1664 was paired with the second course – Cognac-flamed Whole Mussels in Saffron flavoured Seafood Broth and Vegetables. Of the dishes sampled, the fruity-spicy notes of the Kronenbourg 1664 paired best with this one. The mussels were cooked just right and the seafood broth was richly flavoured and chunky from the vegetables.
Pan-seared Large Alaskan Scallops in Fish Fillet, Light Caper, Tomato, Kalamata Olives and Fresh Basil Coulis was served with Asahi Super Dry, also a brand under Carlsberg Malaysia.
The scallops were delicious. Juicy and beautifully cooked, I preferred the one topped with light caper sauce. This beer was crisp and clean, as to not interfere with the natural flavours of the dish.
I had fairly high expectations on the fourth course – Chargrilled Beef Medallion topped with Foie Gras and Truffle, Aged Balsamic Vinegar and Figs, paired again with Kronenbourg 1664. This tasted as good as it looked.
Both the beef and foie gras were beautifully cooked, and the clever play of sweet and savoury worked well with the beer. I reckon it was the figs and balsamic vinegar that went well with the beer.
For dessert, the Amarula Cheese Cake with Fresh Berries was paired with Svago's very own Limoncello – a night cap I've grown to love since 2010. It was a recipe Out2Dine has perfected over 3 years and it tasted mighty fine.
Dinner was an interesting and educational event. I enjoyed learning about the new possibilities of pairing food with beer. Come to think of it, I have a feeling Kronenbourg 1664 would pair well with Indian cuisine. I tried it once with mutton varuval. ;)
The 6-course dinner at Svago is priced at RM268++ per person, excluding featured drinks.
Like my Facebook page here.
Ambiance: 7.5/10
Price: 5/10
Food: 7/10 (pork free)
Verdict: A pretty successful dinner pairing, if I may say so.
*For more information about Kronenbourg 1664 (and other brand under the company's portfolio), visit Carlsberg Malaysia's official website here.
Svago
Lot 136, First floor,
Suria KLCC,
Jalan Ampang,
Kuala Lumpur.
Tel: 03 2163 0188
Business hours: 12noon – 12midnight
GPS Coordinates: N 3 09.482, E 101 42.704