About the guest writer: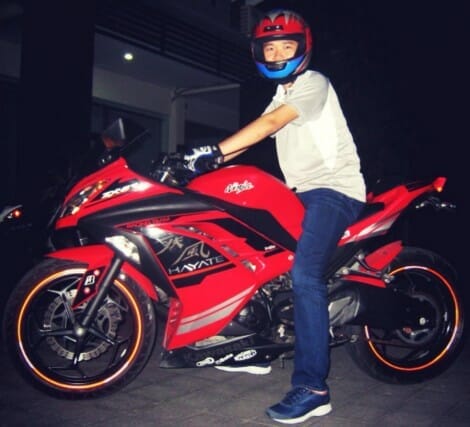 Chinese-born Indonesian Adhiyanto Goen (fondly known as Adhi) went to China when he was 14, hoping to be a thinker, tenor and international spy. In reality, he prefers to lead a quiet life with a good book like Biography of Steve Jobs or Love Letters by Great Men. After working overseas in the PR industry for more than 5 years, he has now settled back home on the Island of the Gods.
Adhi loves a good movie, is nocturnal and enjoys good coffee with the right friend. He is also digitally addicted – to both software and hardware – and is sometimes judged for being too "mechanical" in his methods. Adhi wishes he can travel more like the owner of this blog (Bangsar Babe: :shock:), see the world and try to be more adventurous.
Learning the art of PR
I started this job in 2006 and I was as green as a hornet :). I had no previous experience and have never worked in any Big International Corporations before – it was daunting! I count myself quite fortunate as I've met and was guided by great leaders who made me who I am today. They have all taught me one very important lesson – survival through success.
I still remember meeting my first media – Beijing Talk. It was my first media catch-up over lunch and I think I must have prepared for at least 2 days or so – reading her articles to understand the kind of person she is and what she wrote previously. This was to give me some key topics to talk about as I'm generally not an interesting person in personal life.  Suffice to say, the lunch meeting went well and she was a really nice person to get to know. We still keep in touch until today.
Over time, my conversation skills evolved and soon, I was able to find the right balance of talking business without being too boring and keeping things upbeat. Keeping in mind each of the other party's preference and what their personal style is, I feel PR people should still be genuine and try to infuse a bit more personality or who they are as a character. After all, we were interviewed and chosen to represent the company. This shows that our bosses believe we are a good fit for the brand – the right person for the right job.
Staying up to date
In 2008, I went through a Digital phase. It was the booming year for Twitter, Facebook, Weibo and other channels that keep on sprouting one after another. By instinct, I took the opportunity to grow Twitter. It was big learning curve for me, to learn not only the popular hashtags but who do I talk to, how I can reach out to them and to how do I create impact.
Along this journey, I learnt that I am not the kind of person to wants to talk to just anyone. I prefer getting to know someone one-on-one (this is where my traditional PR trait kicks-in). Connecting with someone on a meaningful level is much more important to me than just "scream a tweet". So I decided to hand the tweeting job to my number 2 – a very nice lady who loves to connect with people of all levels and is very personalized at it too.
This reminds me of an article about the balancing of social media – men are more into planning and how to get achieve a target, while women will explore on conversation and build on it. I guess we all need to balance each other – spread your wings and evolve into the next revolution.
What's next?
This year I'm into YouTube and I believe this is (or has been in the past 2-3 years) the next big mainstream for Asia. With cheaper bandwidth development and the right mobile technology, people have more freedom to choose what they want to watch and when. We are building a series of library for Starwood Bali; from destination, cultural, food, tour, exercise and many more to come. With our line of job, we have to keep evolving where the stream goes – survival of the fittest.
And after all these years, I still take time to "shut up and listen" for this is the best mantra to learn new things and incorporate them into our life experience. I believe the best leaders are made through the forge or undergoing real life experiences, for there is no university for successful entrepreneurs.
I love the way Adhi thinks and how he does his PR. As a blogger and one who has worked in the publishing industry previously, I often come across PR people who are lacking basic skills, passion and determination. Adhi is one of those few I look up to because he has the potential to take a brand to the next level. I've seen it for myself.

He also reminds me of rif, my better half and PR Manager for www.bangsarbabe.com. rif is always looking for new ways to improve the blog (while others imitate us) and he never stops for a break. We are always brainstorming for ways to take things to the next level, and I have to say, we've done pretty well for a team of two! :)