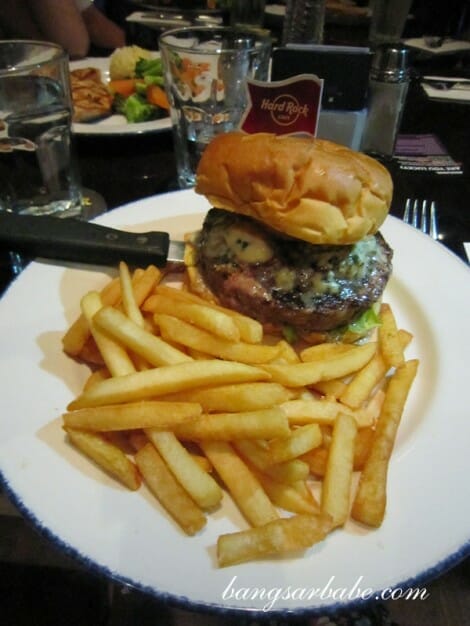 Hard Rock Cafe is one of rif's favourite places to dine in. Honestly, I don't get why. The wait is long and service is consistently unpleasant, even during my last visit two weeks ago. But he's a huge fan of American/Tex-Mex food, and despite the shitty service, the food is pretty decent – taste-wise and portion-wise.
When Hard Rock Cafe opened in Penang, he immediately told me we HAD to check out the place. We did so a few weeks ago, when we were in pearl of the orient for our yearly eating spree. It's best to call ahead and reserve a table, or expect to wait for at least 30 minutes to be seated.
Our table of six shared the Hard Rock Nachos (RM30), a platter of corn tortilla chips, cheese, pinto beans, sour cream, green onions, jalapenos and salsa. We also added grilled chicken (extra RM15) to the nachos topping. Portion was generous, but I found the grilled chicken a tad dry. Beef fajita would have been a better topping option but one of us didn't take beef.
rif and I shared the Twisted Mac & Cheese (RM32) and Red, White & Blue Burger (RM46). The Mac & Cheese was richly flavoured from the cheese and béchamel sauce, but it got a bit cloying at one point. Good stuff, but it is best shared. I didn't care much for the grilled chicken breast as I found it dry and uninspiring. If I'm not mistaken, there's a kid's version of this dish – without the chicken.
The Red, White & Blue Burger was a huge combination of grilled beef patty, spicy Buffalo sauce, Cajun seasoning, blue cheese and onion ring. This was similar to the blue cheese pork burger from Vintry's; only bigger and sloppier. Since it is strongly flavoured by the blue cheese, not everyone would find this palatable. If you're a fan of blue cheese, you'll love this. That said, I found it difficult to finish even half a serving as the burger was massive and I already had half a portion of Mac & Cheese.
Our friend's Legendary 10 oz Burger wasn't as good. Despite being the top seller – comprising bacon, Cheddar cheese, onion ring, tomato, lettuce and pickles – I found this bordering bland. Maybe it's because I tried this after the blue cheese burger.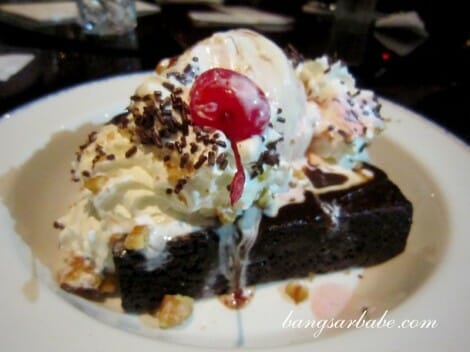 The hot fudge brownie (RM28) lacked fudge compared to the KL version. Also, the ice cream was already half melted by the time we were served, halving the brownie experience for us. That aside, it was still good brownie, just not as good a presentation as I expected.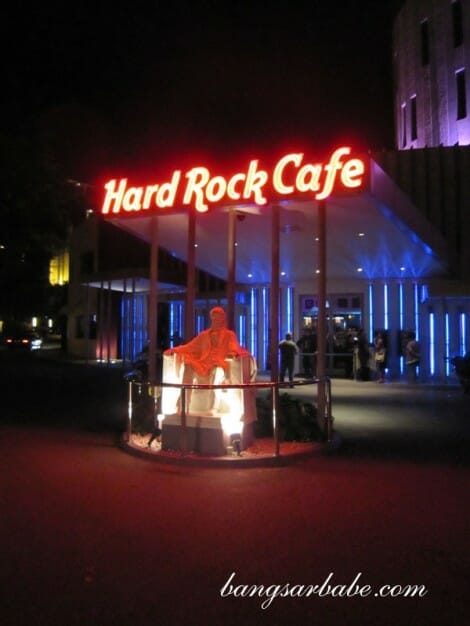 Service was just as disjointed as the branch in KL, but to be fair, it was a full house. They have a bigger burger menu compared to Hard Rock Cafe Kuala Lumpur; I couldn't find the blue cheese burger in the KL menu when I was there.
Ambiance: 6/10
Price: 4/10
Food: 6/10 (pork free)
Verdict: Stick to their burgers, ribs and nachos. My friend's grilled chicken was dry and tasteless.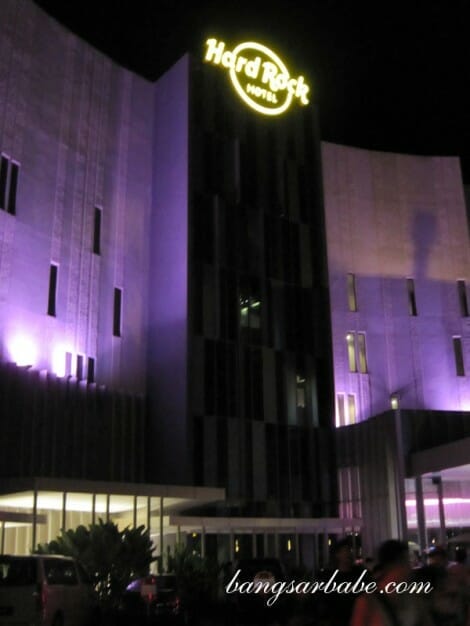 Hard Rock Cafe
Hard Rock Hotel, Penang
Jalan Batu Feringghi
11100, Penang
04-8811 1711
Opening hours: 11am-2.30am daily