Ril's at The Warehouse claims to serve the best steak in KL so rif and I went there for our early Valentine's Day dinner on Sunday. Getting to Ril's was a nightmare and since I wasn't keen on walking too far, we did 'the Malaysian thing' and parked up the five foot way. For those law abiders, you can park you car at the parking lot behind the shoplots. It's roughly 50 meters away from Ril's but the alley is quite badly lit.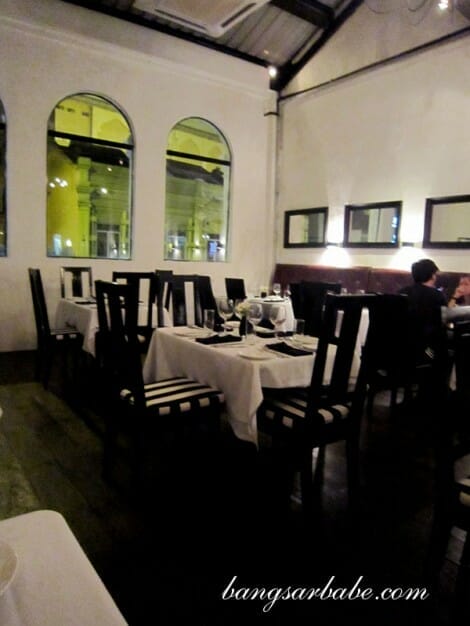 Ladies, if you're planning to dine here, DO NOT (and I'm telling you this very firmly) wear your sky-high stilettos and/or super mini dress to Ril's. You will need to climb a very steep staircase and risk flashing your undies or worse, poo-na-nee at the cute bartender and other guests below. My heels were 5-inch high and let's just say the bartender was polite not to look.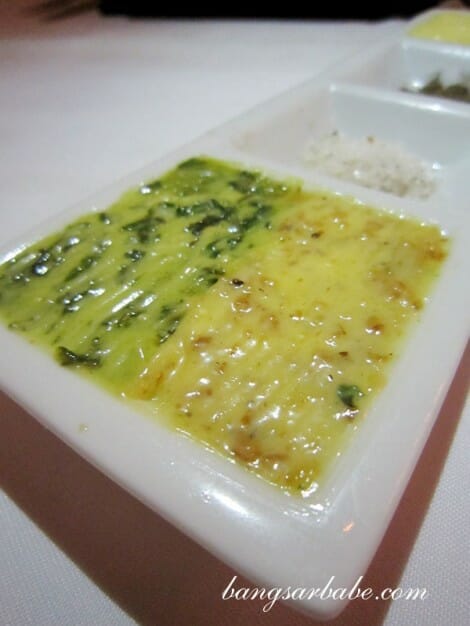 We started with a bread roll each – dense and delicious with generous lashings of basil butter and garlic butter. Good stuff, but Prime's bread and butter still reigns supreme. Ril's Tiga Rasa Scallop (RM24) featured seared scallops in three different sauces – sweet, sour and salty. My favourite was the salty version where the sauce was prepared with soy sauce and butter. The sweet was made with beetroot jam and sour, with lime and aioli.
Ril's specialty is the porterhouse steak, said to be crusty black on the outside with a tender, melting, perfectly rare interior. The beefs are halal certified Malaysia-reared Gemas Gold or air-flown Australian Angus and served with Ril's roasted garlic jus.
That night, my porterhouse (RM158 for 1kg) was shockingly dry and tough, and as we progressed towards the centre, the meat was almost impossible to chew. On top of that, the texture of the beef was coarse and with hardly any silkiness from the fat. Cutting into the meat took longer than eating it, so I gave up after almost an hour. By then, my arms felt as though they had gone through an intense workout. The meat had little flavour so the roasted garlic jus and mustard was most welcomed.
For sides, we had the chunky skin-on steak fries (RM14) and sautéed spinach with garlic (RM10). The latter was disappointing; it tasted like every other stir-fried vegetable dish, which you can make at home. I didn't care much for the fries either, but to be fair, they were adequately prepared.
The meat was very rare towards the centre – almost blue – so we asked if it could be a bit more done. Our waiter was very nice to oblige. After another 5 minutes of battling the texture of the beef, rif and I gave up and proceeded to order the chocolate fondant (RM22) for dessert. This came with a scoop of Last Polka salted gula Melaka ice cream. The fondant had just the right balance of cake and molten centre, and ice cream gave the fondant a slightly salty-caramel touch. We both enjoyed this.
The bill was close to RM300 inclusive of a glass of Santa Ana Malbec (RM24). Not expensive, but I was quite disappointed with the porterhouse. Maybe I should have tried another cut of meat like the ribeye instead of this.  Despite having only two floor staff that night, service was quite attentive, which was a plus point.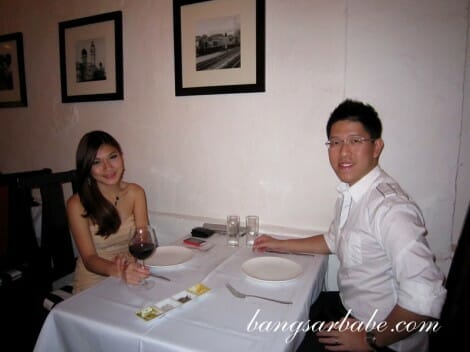 Ambiance: 6/10
Price: 6/10
Food: 4/10 (pork free)
Verdict: I didn't enjoy the porterhouse, but the starter and dessert were decent. Will have to give the ribeye a try next.
Ril's Steakhouse
The Warehouse Gallery & Cafe,
198, Jalan Tun H.S. Lee,
50000 Kuala Lumpur.
Tel: 03-2022 0528.